Windows Management
All SOM-owned Windows devices must be managed by SOM IS.
Any Windows device that is delivered to you by SOM IS will already be managed. We currently use a combination of Microsoft Intune and Microsoft Endpoint Configuration Manager. These technologies allow us to:
Deploy, update and monitor anti-virus software (Windows Defender)

Configure and monitor your Windows Firewall

Deploy Windows security updates, drivers, and new OS versions.

Restrict the installation of malware and other harmful applications.
In most cases, all configuration and application updates performed on your device will be silently run in the background. If a restart is required, a pop-up box will warn you several hours beforehand. You may see this box appear in the lower left corner of your screen:
A pop-up notification of a pending reboot will also appear on the lower left hand corner of your screen: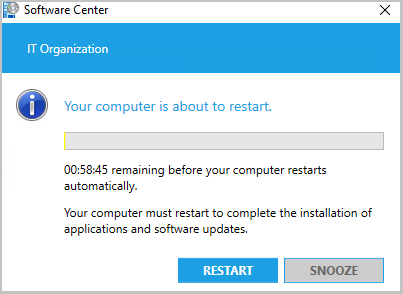 If you require an exemption from scheduled reboots, such as if you have a machine running a sample analysis which may require several days, you can use this form to request one:
Machine Updates Exemption App
If you have purchased Windows devices for your department and they did not come through SOM IS, please contact us so that we may set them up to be managed. An unmanaged device on our network may be able to access the internet, but will not be able to access any campus resources.