Digital & Web Communications
The Office of Public Affairs has overall responsibility for the design, content, and organization of official School of Medicine websites to ensure message and branding consistency at the department, division, and research center levels.
Working closely with the Office of Information Services, the Office of Public Affairs establishes and enforces web policies and online editorial standards that support the School of Medicine's long-term goals for web communication.
Website Content Development
The Web Communications staff will meet with you to assess your Web needs and develop a plan for creating or updating your Website.
We will help organize and write content for your website, as well as develop new graphics and photos. Web Services provides training on the use of Terminal Four (T4), UMB's Web Content Management System.
For more information, please contact the Web Services Team.
---
Terminal Four (T4) Support

‌T4 is the web content management tool used by UMB to update all its websites, including the UM School of Medicine's site.
In simplest terms, T4 is a website used to manage other websites. It is web-based, so you can access it anywhere provided you have been granted access and have an internet connection. You can use T4 to create, edit and delete web pages.
To request access to T4, inquire about training, or to receive technical support, please contact Andy Goldberg.
Visit our Web Support and Guides page for step-by-step guides on working in T4.
---
Faculty Profiles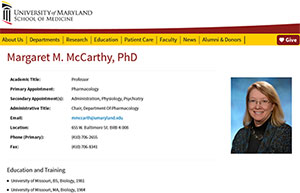 ‌Online profiles provide key information about School of Medicine faculty to internal and external collaborators and the public.
Faculty members are required to maintain an up-to-date School of Medicine faculty profile and are provided with access to make the updates themselves. Faculty have the option to designate a staff member to do it on their behalf.
How to Update Your Faculty Profile: Step-by-Step Instructions
---
Faculty portraits are used for online profiles and campus publications such as SOMnews, The Buzz, the Voice and bulletins. If you have an official faculty portrait that meets standards, it should appear automatically on your profile. After your photo is taken by a SOM Photographer, it is optimized for the web, then uploaded to your faculty profile. Faculty portraits are not uploaded using Terminal Four (T4).
Getting a Faculty Portrait
Official faculty portraits are taken FREE of charge at your convenience by School of Medicine photographers. The photography studio is located on the first floor of the Bressler Building, 655 W. Baltimore Street, Room 1-009. Directions to the Studio.
Faculty portraits are by appointment only (no walk-ins please). The studio is open Mondays, Tuesdays, and Wednesdays from 12 – 3 pm. Appointments are set up in 15 min intervals.
If one of these times does not work, please contact Mark Teske at mteske@som.umaryland.edu.
Please observe the following instructions and guidelines:
Arrive at the studio at your appointed time.
Write your name on the sign-in sheet located outside the door to the studio.
Only one student/faculty will be allowed in the studio at a time.
---
Calendar

‌The UM SOM shares the same calendar as all UMB schools, The Elm Common Calendar. Adding an event to the T4 calendar is a great way to promote the event, as it will be shared throughout UMB.
---
Web Service Requests
Requests for service, questions and suggestions may be directed to:
Larry Roberts
Assistant Dean for Broadcast & Digital Communications
(410) 706-4939
Ted Glazer
Director of Web Communications
(410) 706-2106
Andy Goldberg
Lead Web Developer
(410) 706-4280