Accounts & Passwords
In this article [jump to a section]:
Unified Directory
---
As a SOM user, you should have two different accounts. Unified Directory is the process of linking those accounts so that they act as one.
SOMID - This is an account with the School of Medicine. It includes a Microsoft 365 account, which grants you access to Microsoft 365, your SOM mailbox, Azure Virtual Desktop, and SOMFiles. Every faculty, staff member and student of the School of Medicine has one of these accounts. SOM is made up of users employed by both University of Maryland, Baltimore and FPI.
UMID - This is an account with the University of Maryland, Baltimore. SOM students, faculty and staff who are employed by the University will have a UMID. FPI-leased employees who work for SOM should also have a UMID. A UMID will grant you access to UMB-managed applications, such as myUMB, Blackboard, DocuSign, Webex and Zoom. [learn more]
There are rare instances where a user will not have a UMID, but will need access to UMB-managed applications. In this case, that user will need a
Community System
sponsorship. The user will receive a Community System self-registration email. Community System sponsorships need to be requested, approved and renewed annually. [
learn more
]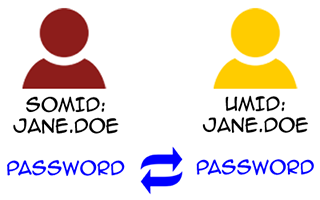 SOMIDs and UMIDs are linked, meaning they use a common username and password. Your SOMID and UMID username will be the same, and your passwords are kept in sync so that they are also the same. Whether you change your SOMID password [https://password.som.umaryland.edu] or your UMID password [https://directory.umaryland.edu], the password of the linked account will be updated accordingly.
New employees should receive an email inviting you to link your accounts. It is important that you follow the link in this email and complete the linking process. FPI-leased employees will not receive this email, as the initial linking step is done for you.
Since your SOMID and UMID username and password are the same, you may be unaware that you are even switching between them. If you are having trouble logging in to your account, take note of whether you are having problems with a SOM or UMB application. You can tell by the login screen. This is helpful information for when you contact the SOM helpdesk.
You'll use your SOM account when logging into your computer, and when an application prompts you with a screen like this. Note the School of Medicine logo.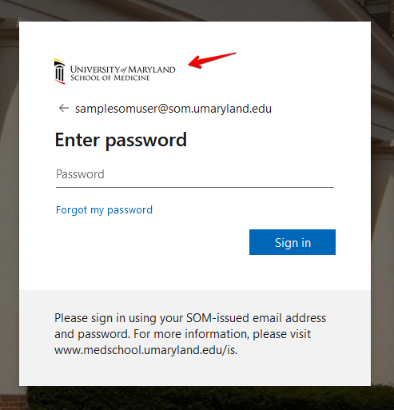 You'll use your UMB account when logging into an application prompts you with a screen like this. Note the UMB logo.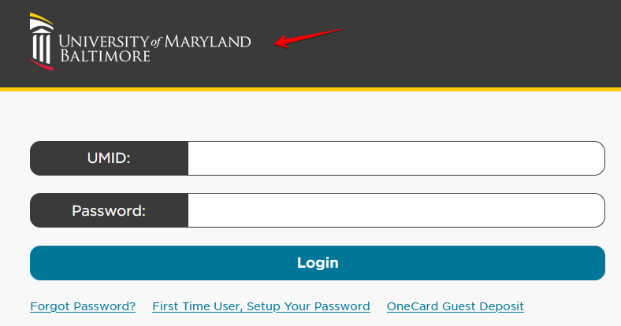 Understanding Microsoft 365 on Campus
---
SOM, UMB and FPI each have their own Microsoft 365 (formally Office 365) services, called tenants. Though they all use Microsoft 365, they are all completely separate, and the accounts that exist in one do not relate to the accounts that exist in another in any way.
SOM Account - For all SOM faculty, staff and students, as well as some affiliates. These mailboxes end in @som.umaryland.edu, @ihv.umaryland.edu or @mgic.umaryland.edu.
UMB Account - For faculty, staff and students who work directly for University of Maryland, Baltmore. This is different than a UMID, which is an account that can grant both SOM and UMB users access to UMB-managed applications, such as myUMB, Blackboard, DocuSign, Webex and Zoom. These mailboxes end in @umaryland.edu.
FPI Account - For FPI Corporate accounts, who are typically staff that support the FPI organization directly, as opposed to those that work within the School of Medicine. These mailboxes end in @fpi.umaryland.edu. [learn more]
UMMS Account - For faculty and staff that work within UMMS. Though these accounts have access to a mailbox and Microsoft Office applications, these are technically not Microsoft 365 accounts. These mailboxes end in @umm.edu. [learn more]
Because of this, there are certain limitations to what you can share or do with members of other M365 tenants on campus. For example, calendars can be shared as read-only to members of other tenants, but a member of UMB, for example, cannot be given edit or delegate access to a calendar belonging to a SOM employee. A SOM employee cannot be given access to a shared mailbox that belongs to FPI.
Here's some things you can and can't do between users of two different M365 tenants.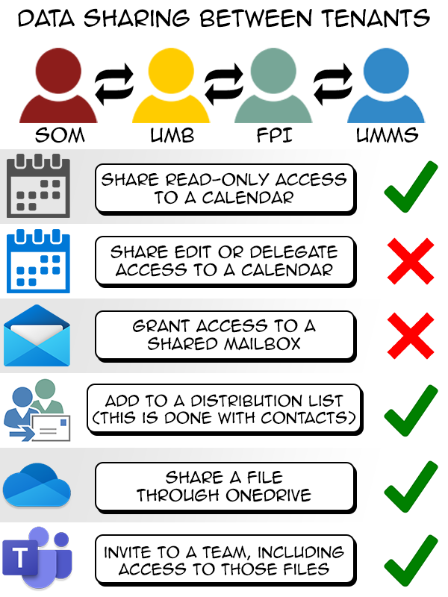 DUO & MFA
---

All SOM accounts must be enrolled in DUO, which is a Multifactor Authentication application. You'll register a phone, preferably a mobile phone, to be able to authenticate yourself when you are logging on while off-campus. This ensures that someone cannot gain unauthorized access to your account simply by stealing your password.
Both SOM and UMB accounts use DUO for MFA. Because of account linking, you'll only need to register once.
You're prompted to enroll the very first time you log into your SOM account. To learn more, or to find out how to register a new phone, please see our DUO documentation.
Change Password & Password Policy
---
Because we rely on DUO Multifactor Authentication, your password does not expire. However, you may need to change your password for other reasons. If your password has been detected in a data breach, our security team might reach out to you and ask you to change it. If you do change your password, it must adhere to the following rules.
Can only change password once a day
Minimum length of 12 characters.
Cannot be the same as any of your last 10 passwords.
Cannot contain any part of your name or username.
Will be checked against an algorithm to check against easily guessed passwords. [learn more]
Can't access account
---
If you've lost or forgotten your password, and you're registered for the Self-Service Password Reset portal, you can change your password by following this walkthrough.
If you're receiving an error message that your account is disabled, or for any other reason, contact the helpdesk.
If you can log in to some resources but not others, determine whether the difference is whether those resources are SOM vs UMB. If so, this will greatly speed up troubleshooting. It is possible, in some rare cases, that one account could be disabled while the other remains active.