Information Systems
2023/09/01 - Attn: Cisco AnyConnect(VPN) Users ONLY
The recent change to the VPN broke authenticating to the Cisco AnyConnect VPN prior to logging into Windows. This functionality has been restored using vpn.som.umaryland.edu/somvpn instead of vpn.som.umaryland.edu.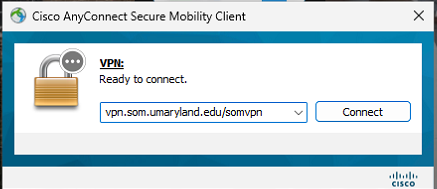 Make sure you are following these instructions.
https://www.medschool.umaryland.edu/medicine/IS/Remote-Access/Remote-Access---VPN/
2023/08/23 - Post Zenworks/Application Launcher Tips
We have put together a "FAQ's/Useful Information"(with very short videos) page which cover the most common questions/tickets (see bullet points) we have received since the migration. Please review when you have a few minutes and/or be sure to look here FIRST before you enter a ticket with us.
Use "Managed Favorites" in the "Microsoft Edge" browser to launch web-based apps like myUMB, SysAid, myFPI etc.

Install common applications in the "Company Portal" app like Foxit, Endnote, R etc.

Install network printers

Customizing your desktop with apps and shortcuts

Clearing "Microsoft Edge" to resolve common issues
Archived Headlines
To view archived headlines, click here.