Academic Programs & Policies
Undergraduate Programs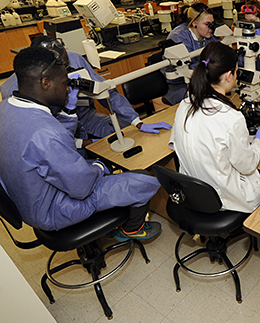 The DMRT offers a baccalaureate degree in Medical and Research Technology.
The MLS program is an upper-level allied health curricula offered in two years of full-time or three years of part-time study. Spring admit students will require 2 1/2 years for completion of the program. In addition to lecture and laboratory instruction, students complete externship training.
In January and continuing through the spring semester of their senior year, the Medical Laboratory Science students train among the Department's 16 clinical affiliate sites. Graduates of the Medical Laboratory Science Program are eligible to take national certification examinations in Medical Laboratory Science.
General Information
Degree Awarded: BS – Bachelor of Science
Program Length

Fall Admission (Full-Time): 4 semesters
Fall Admission (Part-Time Option): 6 semesters
Spring Admission: 5 semesters

Class Size: 5 to 30 students
Distance Education Option: No
DAY CLASSES ONLY – 8:30 a.m. to 5:00 p.m. (Monday – Friday) Due to COVID-19 we anticipate fall 2021 will have hybrid lectures and in person laboratories.
One online summer class
Accreditation Status: NAACLS in good standing through April 2026
All 60 prerequisite credits must be completed before program entry
2014 average incoming GPA 3.4
Certificate Programs
DMRT also offers an accelerated one-year categorical certificate program for individuals who already possess a baccalaureate degree in a basic science area such as chemistry or biology. After completion of coursework and training, students are eligible to take national certification examinations in their specialty area.
Categorical Certificate Training Program
Graduate Programs
The graduate program of DMRT offers two career tracks: Biotechnology Research or Clinical Laboratory Management. The program provides flexibility in scheduling coursework and in arranging programs of study to fit individual interests and backgrounds.
Affiliates
Academic Programs and Policies