Research
The Department of Orthopaedics at the University of Maryland is dedicated to improving musculoskeletal care for our patients. We are ranked among the top ten orthopaedic departments for National Institutes of Health funding for musculoskeletal research. Our research encompasses a full breadth of orthopaedic specialties and a multidisciplinary team of researchers and clinicians committed to advancing the science and improving outcomes for patients with musculoskeletal conditions and injuries.
Our research divisions, centers, and specialties include Clinical Research, Basic Science Research and Research Service Centers.
---
Clinical Research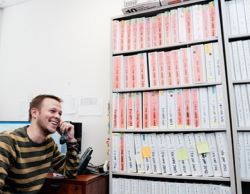 The Department of Orthopaedics participates in a wide array of Orthopaedic Clinical Research to advance the medical community's ability to effectively treat orthopaedic injuries and conditions. Our clinical trials are an important component of the Department's research portfolio and our faculty collaborate on studies with doctors from medical institutions across the country to improve the quality of life for orthopaedic patients of all ages.
Our clinical research divisions include: Trauma, Spine, Pediatrics, and Sports Medicine. For more information on our clinical research, please follow the links below.
Orthopaedic Trauma Research

The University of Maryland, Baltimore's Orthopaedic Trauma Research Program is among national leaders in orthopaedic clinical research. The program is dedicated to designing and implementing clinical studies to answer the most important questions in the care of patients with musculoskeletal injuries.
Their mission is to improve the clinical, functional and quality of life outcomes of patients with traumatic musculoskeletal injuries through novel and innovative clinical research.
---
Division of Musculoskeletal Sciences
The Division of Musculoskeletal Sciences, led by Joseph Stains, PhD, of the Department of Orthopaedics is comprised of several Musculoskeletal Research Laboratories that focus on the physiology and pathology of bone and skeletal muscles.
Their mission is to conduct groundbreaking research that applies multidisciplinary approaches and integrates the perspective of researchers and clinicians to improve musculoskeletal health and orthopaedic outcomes through pre-clinical and translational research programs.
---
Research Service Centers
Through our Research Service Centers, we offer an array of orthopaedic research services, ranging from clinical research to basic science research. Click the links below to learn more about what each Service Center can provide.
The Center for Orthopaedic Injury Research & Innovation (COIRI)

Provides professional and patient-derived resources for developing future clinical projects and improving patient care.
Musculoskeletal Physiology Service Center
The Musculoskeletal Physiology Service Center provides comprehensive outcome measures to assess bone and muscle structure, function, and physiology in preclinical models. The Musculoskeletal Physiology Core offers training and assistance in the holistic assessment of in vivo and ex vivo musculoskeletal phenotypes.