Preceptorships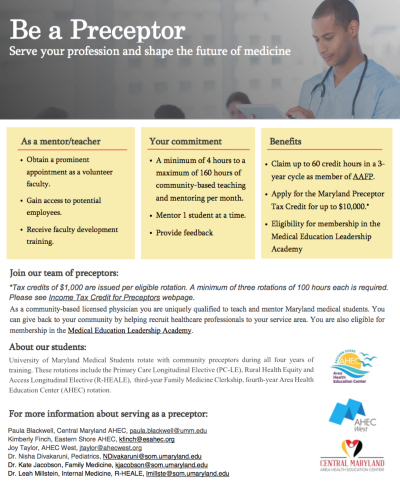 One component of the MAHEC program requires medical students to participate in preceptorships with community physicians. It is through these community/academic partnerships that a commitment is fostered to enhance health care access in rural and urban, underserved areas within the State.
Why do the community physicians in the AHEC Program need faculty appointments?
The Liaison Committee on Medical Education (LCME), the School's accrediting body, requires that all individuals who teach and evaluate University of Maryland School of Medicine (UMSOM) medical students hold a faculty appointment.
What do the community physicians gain by having a faculty appointment?
The contributions of the preceptor are highly valued. Once granted a faculty appointment at the UMSOM, the preceptors are also recommended to be appointed as members of the University of Maryland Medical Center's (UMMC) Associates program. As a faculty member, the preceptor is also eligible to earn Category 1 CME credit, which is recognized by the State of Maryland for licensure purposes. Title 10 of the Department of Mental Health and Mental Hygiene section of the Annotated Code of Maryland allows 1 credit hour for every 5 hours served as a preceptor, up to a maximum of 10 credit hours for a 2-year period.
---
AHEC Preceptor – Faculty Appointment Process
AHEC Area Coordinator's responsibilities:
Identify potential preceptor.
Send cover letter to Preceptor & obtain following documentation:
-
-
- Suggested References (at least 3)
-
Determine specialty based on board certifications & practice type;
- If specialty is clear - send original documents onto appropriate Department APT Contact (faxes are not acceptable)
- If unclear or if Preceptor is not board certified contact Maryland Health Network(MHN)/AHEC office or OAA for guidance.
Department APT Contact's responsibilities:
Review materials sent by AHEC Coordinator.
- If complete – proceed with reviewing CV.
- If not complete – contact AHEC coordinator.
Review CV for appropriate rank and fit with Department.
- If ok – proceed with checking license.
- If questionable – contact MHN/AHEC office or OAA for guidance.
Check if licensed in Maryland.
- If ok – proceed with references.
- If not licensed in Maryland – contact MHN/AHEC office or OAA for guidance.
Send reference form and cover letter to references provided (only two references are required)
Once references are received, write Chair letter
Send original documentation plus Chair letter & volunteer FAIS to OAA in blue folder.
OAA's responsibilities:
Review packet for completeness.
- If ok, proceed with approval process.
- If not ok - contact Department APT Contact or AHEC Coordinator
Prepare Dean's letter and submit to Dean for consideration
Once approved, distribute Dean's Letter:
- Original Dean's letter plus one copy to MHN/AHEC office to be distributed to AHEC Coordinator and/or Preceptor.
- One copy of letter is sent back to Department APT Contact.
OAA will notify Hospital Associates Program of new Preceptor.
---
AHEC Preceptor – Annual Appointment Renewals
OAA will generate list of volunteers in May/June.
- Department APT Contacts will be sent list with AHEC volunteers clearly identified.
- List will also be sent to MSN/AHEC office to distribute to AHEC Area Coordinators.
AHEC Coordinators will be responsible for notifying Department APT Contact if appointment should be renewed for another year or if Preceptor is no longer active.
Department APT Contact will notify OAA if appointment is to be renewed or terminated.
OAA will process renewal or termination.
Copies of renewals will be distributed as described for initial appointments