AHEC West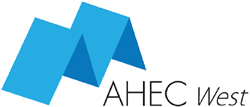 Maryland Area Health Education Center West, also known as "AHEC West," is a rural, community-based organization serving Appalachian counties in Maryland, Pennsylvania, and West Virginia. To fulfill our mission to improve access to and promote quality in health care through educational and other partnerships, we collaborate with local, state, federal, and private organizations working toward mutual goals of the equitable national distribution of health professionals and the elimination of health disparities due to rurality, poverty, race, and culture.
Executive Director: Susan K. Stewart
Program Snapshot
Clinical Education
In an effort to attract health professionals to our under-served rural area, AHEC West coordinates local rotations for health professions students from the University of Maryland, Baltimore and other schools.
---
Exploring Careers in Health Occupations (ECHO)
To help "grow our own" health professionals, ECHO provides interactive, multi-disciplinary experiences to high school students interested in pursuing careers in health care.
---
Geriatric Programs
Geriatric Assessment Interdisciplinary Team (GAIT)
GAIT is an interprofessional geriatrics training program for University System of Maryland students.
Geriatrics and Gerontology Education and Research program (GGEAR)
GGEAR supports collaborative implementation of interprofessional geriatrics continuing education, as well as education and resources for care providers serving Western Maryland older adults.
---
Mountain Health Alliance (MHA)
MHA is a Network of public health care agencies, hospitals, and community organizations that works to broaden access to health care, especially for low income and/or uninsured, underserved adults.
---
National AHEC Organization/Human Papilloma Virus Project (HPV)
HPV is a national effort to raise HPV immunization rates through provider education, and AHEC West houses the Continuing Education Project Specialist, a resource for all AHECs in their continuing education efforts.
---
Stretching To EmPower (STEP)
STEP is one of 16 community initiatives nationwide approved in July 2017 by the federal Office on Women's Health (OWH) to reduce opioid misuse among women.
---
Health Right
Health Right increase access to emergency dental care for low-income, uninsured/underinsured adults.