A Message From Our Chair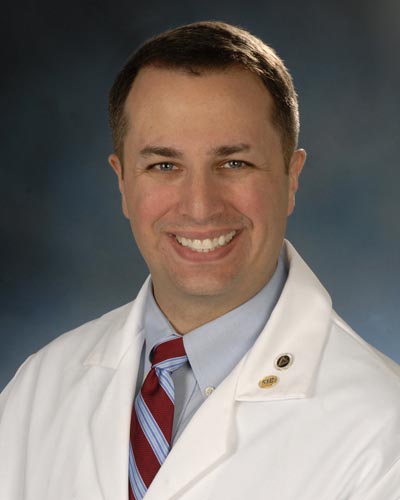 The mission of our department is to deliver state-of-the-art anesthesia services in perioperative care, pain management and critical care; educate students, residents and fellows; be recognized for its contributions to the specialty of anesthesiology through education, research and scholarly activities; and contribute to the success of the Medical School and Medical System.
We are part of a rapidly expanding professional campus in downtown Baltimore. This 71-acre campus features the Schools of Medicine, Nursing, Dentistry, Pharmacy, Social Work and Law. The footprint also includes a 10-acre "Biopark" that serves as an incubator for emerging and innovative biotechnology firms. In addition to the professional schools, there are several acute care hospitals: the University of Maryland Medical Center (UMMC), UMMC Midtown Campus, the Baltimore VA Hospital and the R Adams Cowley Shock Trauma Center.
Founded in 1807, the University of Maryland School of Medicine is America's oldest public medical school. The School of Medicine is a top-tier academic medical institution known for its innovative curriculum and its research enterprise. In partnership with UMMC, it educates and trains more than half of Maryland's practicing physicians and is a strong economic force in the state. The School of Medicine has 3,143 faculty members and 2,787 full-time staff. More than 2,449 students are studying to become physicians, biomedical researchers, physical therapists, geneticists and public health specialists. The School of Medicine is ranked 8th among public medical schools in the United States with total extramural research funding reaching $555 million in FY21.
Each year, the department administers over 35,000 anesthetics, has approximately 10,058 patient encounters in the Pain Management Center and provides 5,163 patient-days of care in the intensive-care units.
Across all our clinical sites, we have 51 ORs and 67 ICU beds. All anesthesiology subspecialties are represented ambulatory, cardiac, critical care, obstetrics, regional anesthesia, acute and chronic pain management, pediatrics, neurosurgery, trauma and transplantation. The department delivers care in sites outside the operating room such as interventional radiology, endoscopy and cardiac catheterization.
There are six main clinical sites in the department. The University ORs care for a variety of patients requiring acute care such as pediatric heart procedures, cardiac bypass and valvular repairs, organ transplantation, neurosurgical procedures, major abdominal surgery and high-risk obstetrical services. It has an efficient pre-operative testing and evaluation center. The Medical Center is building a state-of-the-art in- and out-patient facility that is home to a comprehensive Cancer Center and a Cardiovascular Center, outpatient ORs and other procedural services. The Shock Trauma ORs are renowned for their world-class care of injured patients. The VA Hospital is on our campus, connected to the main hospital by a sky bridge. The UMMC Midtown Campus is located approximately 10 blocks from the main campus and has 8 operating rooms, one cystoscopy suite and 2 endoscopy rooms. University of Maryland Rehabilitation & Orthopaedic Institute, just seven miles northwest of the Medical Center, specializes in orthopedic surgery and is the largest in-patient rehabilitation hospital and provider of rehabilitation services in the state of Maryland. Our Pain Management Center is located at University of Maryland Rehabilitation & Orthopaedic Institute.
Research led by department members covers areas of brain injury, neuroprotection, acute lung injury, telemedicine, hemoglobin substitutes, chronic pain management and human factors engineering patient safety. We are actively involved in clinical trials. We have a growing relationship with the Department of Defense. We also have a collegial relationship with the Office of Clinical Trials in the School of Medicine.
Our residency is fully accredited for the training continuum of three years. The diverse curriculum permits candidates to fulfill the educational requirements for entrance to the American Board of Anesthesiology examination system. There are accredited fellowships in critical-care medicine, pain management, obstetrics and cardiothoracic anesthesia. We also offer advanced subspecialty fellowship training in regional anesthesia, trauma and research. Appointments are made at both the PGY-1 and CA-1/PGY-2 level.
Baltimore is a city of approximately 576,000 people with almost 300 hundred years of history. Our port city retains an international flair, not only around its Inner Harbor, but also throughout its surrounding neighborhoods, each with their own individual charm and flavor. The Medical Center is within walking distance to Baltimore's Inner Harbor, which has numerous shops, restaurants and tourist attractions. Also nearby are baseball and football stadiums, a science center and an aquarium.
The University of Maryland Department of Anesthesiology is looking for motivated resident applicants, fellow candidates and potential faculty members who are interested in learning and advancing the field of anesthesiology, developing careers in academic anesthesiology and who are dedicated to the highest quality, compassionate patient care. We pride ourselves on our collegial and collaborative approach to all our various missions. We are committed to helping you achieve your potential as a trainee or as a faculty member. I am confident there is no better place to train, no better place to practice as an academic anesthesiologist and no better place to live and raise a family. You will enjoy living in Baltimore and working in our department.
Samuel M. Galvagno Jr., D.O., Ph.D., M.S., M.B.A., F.C.C.M
Professor and Interim Chair