February 2020
The UMB Post[doc]
February 2021
UMB Embraces Diversity by Recognizing Racial Inequities, Do You?
Healthy Choices to a Healthy Heart
Rare Disease Series - Homozygous Familial Hypercholesterolemia
A Conversation Around Finding Diversity, Equity, Inclusion, and Community as a Postdoc
Other Things We Saw and Liked This Month
Introduction
Dear Readers,
Did anyone else think 2021 was going to be less eventful than 2020? That seems like it was wishful thinking as every week in January came with a major political or economic event. As we are now on the other side of the presidential inauguration, as COVID case numbers fall, and as vaccination rates rise, maybe things will start to approach something like normal? We've got our fingers crossed.
An important lesson from 2020 was that the "normal" we go back to needs to be different and improved upon the normal we left behind in March of last year. In the United States, February marks Black History Month, and we at the UMB Post[doc] are marking this month with articles continuing the conversation around diversity, equity, and inclusion that gained national attention last summer. These topics should not only be considered during this month alone, so we have a lot of tips on how to get involved and stay involved at UMB. Also, for Rare Diseases Day, observed on February 29th, we are bringing awareness to the rare disease Homozygous Familial Hypercholesterolemia.
If you would like to be involved in the making of the newsletter, please reach out to us at umbpostdoc@som.umaryland.edu.
Best,
The UMB Post[doc] 
UMB Embraces Diversity by Recognizing Racial Inequities, Do You?
Archana Gopalakrishnan
In this article, we will look at some of the initiatives by the University of Maryland, Baltimore (UMB) to address racial issues and promote diversity and equity and inclusion in the workplace.
A few years ago, Dean Reece of the School of Medicine at UMB launched the Culture Transformation Initiative (CTI) with the goal of addressing and effectively combating microaggressions and unconscious biases that arise because of racial inequity in the workplace. The goal of this initiative was to ensure the development of a respectful space that is inclusive and diverse. CTI laid out its yearly goals and organized a range of activities and programs to bring in short- and long-term changes. The Diversity Dashboard, launched in 2019, gave us the perspective that the journey to bridge the diversity gap is a long one.
Recently, as a representing member of international students and scholars at UMB, along with other student and scholar leaders, I was invited to aid in defining the requirements for a Chief Diversity Equity and Inclusion Officer (CDEIO). Our recommendations were integral in selecting the four final candidates who have been presenting their visions for addressing racial inequities at a UMB in Town Hall meetings. The CDEIO is expected to be an advisor and a leader who could bring in changes to the institution that address racial inequities and serve as a platform for every student/scholar/employee of UMB to discuss any racial biases without prejudice.
Last year, in September, Dean Eddington of the School of Pharmacy at UMB formed a DEI taskforce to ensure that the School has inclusive policies that respect diversity and equal opportunities for all those in its community. This Taskforce is composed of a diverse group of people, ranging from faculty and staff to students and postdoctoral fellows. They are charged with drafting and implementing DEI goals that will be effective in education, research and clinical practice, administration, and community service.
The Diversity Advisory Council (DAC) was established by the President of the University of Maryland, Baltimore to be responsible for engaging in conversations that address diversity in all UMB schools and campuses. They are the only organization that has an active voice in the development of institutional policies and procedures involving diversity and equity. The DAC has also established a number of affinity groups that bring together people vested with common interests to share their ideology and organize events pertaining to their mission.
In a similar vein, UMB students have organized a number of organizations that discuss and celebrate diversity. These include the Chinese Student and Scholar Association (CSSA), Indian Association (IA), United Students of African Descent (USAD), and the Jewish Student Organization (JSA), to name a few. The existence of these different student-led organizations is evidence that UMB embraces diversity and assures its members that being different is what makes our community rich.
The University offers several venues for every one of us to be involved. Be a part of a student-led affinity group or volunteer with the DAC. Engage yourselves in Town Hall meetings and let your voice be heard. Let us be open to accept that implicit biases exist in all of us, it is time we learned to recognize them. It is easy to celebrate Black History Month by doing something, just for this month, that uplifts our Black American colleagues, friends, and co-workers. But to embrace diversity and overpower racial inequities, we need to discuss and accept racial biases, not just this month, but all year.
Healthy Choices to a Healthy Heart
Awadhesh K. Arya
American Heart Month is observed every year in the month of February to motivate Americans to adopt healthy lifestyles to prevent heart disease. The National Heart, Lung, and Blood Institute (NHLBI) has made a "7 Days of Self-Care' plan to keep hearts healthy.
The heart beats about 2.5 billion times over the average lifetime, pushing millions of gallons of blood to every part of the body. When the heart stops, essential functions fail, some almost instantly. Given the heart's never-ending workload, it's a wonder it performs so well, for so long, for so many people. But it can also fail, brought down by a poor diet and lack of exercise, high cholesterol, high blood pressure, diabetes, excessive smoking, and infection. A group of researchers at the University of Maryland School of Medicine study finds that having elevated low-density lipoprotein (LDL) cholesterol during the teens or early twenties increases a person's risk of having a heart attack, stroke, or other cardiovascular events during middle age. This increased risk persists even in those who were able to get their cholesterol levels down to a healthy level before reaching their late thirties.
Heart disease affects all ages, genders, and ethnicities and more than 600,000 Americans die every year due to heart diseases. Cardiovascular disease (CVD) is a class of diseases that involve the heart or blood vessels and are the leading cause of death worldwide. The most common type of cardiovascular disease is coronary artery disease, in which the blood vessels that supply blood to the heart become narrowed or blocked, leading to heart attacks and strokes. The most common reason for this is a build-up of fatty deposits on the inner walls of the blood vessels (atherosclerosis) that supply the heart or brain. Strokes can also be caused by bleeding from a blood vessel in the brain or from blood clots. Pre-existing heart conditions, such as damaged heart muscle or blocked heart arteries and poor metabolic health such as type 2 diabetes or prediabetes, and obesity, weaken the body's ability to survive the stress of the illness. People with these pre-existing conditions and poor cardiovascular health are at an increased risk of severe illness from COVID-19 also. The SARS-CoV-2 virus can cause damage to the heart by directly invading or inflaming the heart muscle, and it may indirectly harm the heart by disrupting the balance between oxygen supply and demand. Heart injury can be measured by elevated levels of the enzyme troponin in the bloodstream. A recent study reported that about one-quarter of patients hospitalized with severe COVID-19 illness have augmented troponin levels.
Researchers have found out that red meat is linked to CVD because of trimethylamine N-oxide (TMAO) production after digestion in the stomach. People with high levels of TMAO in their blood may have double the risk of CVD, compared with people who have lower levels. Nonsteroidal anti-inflammatory drugs (NSAIDs), such as ibuprofen and naproxen are also increasing the risk of having a higher heart attack or stroke in those who are chronically dependent on it.
A healthy lifestyle, especially when started at a young age, goes a long way to preventing cardiovascular disease. The DASH diet plan (Dietary Approaches to Stop Hypertension), is a lifelong approach to healthy eating that's designed to help treat or prevent high blood pressure (hypertension). The DASH diet encourages to reduce the sodium and eat a variety of foods rich in nutrients e.g., vegetables, fruits, low-fat dairy foods- and moderate amounts of whole grains, fish, poultry, and nuts that assist in lowering blood pressure, prevent osteoporosis, cancer, heart disease, stroke, and diabetes. In addition to following the DASH diet, regular exercise is an important way to lower the risk of heart diseases. Aerobic exercise, like running, biking, swimming, or brisk walking, for thirty minutes or more on most days can help to lose weight, increase the level of HDL cholesterol (good cholesterol), and lower blood pressure. Regular exercise increases the efficiency of the heart muscle to push out more blood with each beat, allowing it to beat slower and keep blood pressure under control. A study conducted on heart stroke patients reported that the patients who participated in a formal exercise program, the death rate was reduced by 20 percent to 25 percent as compared to the control group. This is strong evidence in support of physical activity for patients with heart disease. Heart disease patients are required to adopt self-care activities because much of a patient's recovery occurs at home after a heart attack. With the right information and support, the chances of reaching healthcare-related goals are much higher. Luckily, there are a number of digital tools that can empower heart attack patients throughout their self-care journeys. From apps that read blood pressure to those that make it easy for patients and their circles of care to share and update care plans, the possibilities are endless.
The fate of our heart health is largely in our hands and we can avoid any heart-related complications by maintaining a healthy lifestyle which includes a heart-healthy diet, exercise, avoid overweight, quit smoking and stay away from secondhand smoke, drink alcohol only in moderation, manage stress and control cholesterol and blood pressure.
Rare Disease Series

-

H

omozygous

F

amilial

H

ypercholesterolemia
Long Jiang
The International Rare Disease Day was initiated and organized by the European Organization for Rare Diseases (EURODIS) on February 29, 2008. Since then, the last day of February is considered International Rare Disease Day. In honor of this day, let us discuss a rare disease – homozygous familial hypercholesterolemia, and raise some awareness of this disease.
What's homozygous familial hypercholesterolemia?
Homozygous familial hypercholesterolaemia (HoFH) is a rare and life-threatening disease. The patients often have extensive skin xanthoma with plasma cholesterol levels >13 mmol/L (>500 mg/dL), and if left untreated, the marked premature and progressive atherosclerotic cardiovascular disease (ACVD) can occur in childhood and early adulthood, leading to sudden death.1 Current epidemiology shows HoFH affects more than 1/160,000 people all over the world (an estimated 5,810 people with HoFH in the United States).
Genetics of homozygous familial hypercholesterolemia
A person who has HoFH usually inherits the mutated genes from both parents. The most commonly mutated gene is the low-density lipoprotein receptor (LDLR) gene (MIM 606945), most HoFH patients have two mutant alleles of the LDLR gene from their parents. Recently, in some cases, allelic mutations of another three genes have been identified as causal, and their phenotype is similar to HoFH. These genes include apolipoprotein (apo) B (APOB), proprotein convertase subtilisin/Kexin type 9 (PCSK9), and LDL receptor adaptor protein 1 (LDLRAP1). A single LDLRAP1 mutation usually presents with a recessive phenotype, and the carrier's parents have normal lipid profiles. HoFH is clinically divided into three categories:
1: Patients with identical mutations in both alleles of the same gene; identified as homozygotes.
2: Patients with different mutations in each allele of the same gene; identified as compound heterozygotes (more common).
3: Patients with mutations in two different genes; identified as double heterozygotes.
Current diagnostic criteria
In 2014, The European Atherosclerosis Society (EAS) Consensus Panel on Familial Hypercholesterolaemia (FH) had published a statement on HoFH1. It recommended the following diagnostic criteria: genetic confirmation of two mutant alleles at LDLR, APOB, PCSK9, or LDLRAP1 gene loci, an untreated LDL-C > 13mmol/L (500mg/dL) or treated LDL-C ≥ 8mmol/L (300mg/dL) together with either cutaneous or tendon xanthoma before age 10 years, or untreated elevated LDL-C levels consistent with heterozygous FH in both parents. However, a wide range of LDL-C values was found in a cohort study (included 167 HoFH patients from 3 international studies), which showed untreated patients had LDL-C levels from 4.4 mmol/L to 27.2 mmol/L (170-1052 mg/dL), and from 2.6 mmol/L to 20.3 mmol/L (101-785 mg/dL) for treated patients.2 That means the diagnostic criteria for HoFH are not perfect based solely on the clinical criteria. Countries should formulate their own corresponding diagnostic criteria.
Treatment of HoFH
The mainstays of treatment include lifestyle intervention and maximal statin therapy. The EAS Consensus Panel recommended the treatment should be started as early as possible, and they suggested LDL-C targets in HoFH should lower than 2.5 mmol/L (<100 mg/dL) [<3.5 mmol/L (<135 mg/dL) in children], or <1.8 mmol/L (<70 mg/dL) in adults with clinical ACVD1. However, even at the maximal statin, most patients only showed 10–25 percent reductions in LDL-C plasma levels. Additional ezetimibe (a cholesterol absorption inhibitor) can further lower LDL-C levels by 10–15 percent.3 Lipoprotein apheresis can decrease plasma LDL-C levels by 55–70 percent, but it is an expensive and time-consuming therapeutic approach1. The best treatment is liver transplantation which can correct the molecular defect specifically in the liver, but this also has limitations. New therapeutic approaches included PCSK9 inhibitors, and AngPTL3 inhibitors also showed good application prospects.4,5
In summary, HoFH is a rare and serious genetic disease that can lead to premature death. Although some progress has been made in diagnosis and treatment, there is still a long way to go. It is necessary to increase the awareness of the disease for the public. Some organizations, like the FH Foundation, a non-profit organization in the United States has played a very important role in the promotion of FH awareness.
---
References
1. Cuchel M, Bruckert E, Ginsberg HN, et al. Homozygous familial hypercholesterolaemia: new insights and guidance for clinicians to improve detection and clinical management. A position paper from the Consensus Panel on Familial Hypercholesterolaemia of the European Atherosclerosis Society. Eur Heart J. 2014;35(32):2146-57.
2. Raal FJ, Sjouke B, Hovingh GK, Isaac BF. Phenotype diversity among patients with homozygous familial hypercholesterolemia: A cohort study. Atherosclerosis. 2016;248:238-44.
3. Gagne C, Gaudet D, Bruckert E. Efficacy and safety of ezetimibe coadministered with atorvastatin or simvastatin in patients with homozygous familial hypercholesterolemia, Circulation, 2002;105:2469-2475.
4. Gaudet D GD, Pordy R, Ahmad Z, Cuchel M, Shah PK, Chyu KY, et al. ANGPTL3 Inhibition in Homozygous Familial Hypercholesterolemia. N Engl J Med 2017;377:296-297.
5. Thedrez A, Blom DJ, Ramin-Mangata S, Blanchard V, Croyal M, Chemello K, et al. Homozygous Familial Hypercholesterolemia Patients With Identical Mutations Variably Express the LDLR (Low-Density Lipoprotein Receptor): Implications for the Efficacy of Evolocumab. Arterioscler Thromb Vasc Biol. 2018;38(3):592-598.
A Conversation Around Finding Diversity, Equity, Inclusion, and Community as a Postdoc
Natasha Tonge
Entering a postdoc can often mean entering a new city, a new university, and a new lab. Even when the lab, university, and city are exactly the same, a postdoc is a change in role, responsibilities, and opportunities for enacting change in your administration. In light of Black History Month, and a year of activism for and in defense of Black Lives, I know many have been thinking about how to make an impact, perhaps starting with the University you're affiliated with. Although diversity, equity, and inclusion initiatives, offices, and committees are usually broad in scope, they're also usually the best places to start.
At the University of Maryland, Baltimore, there are numerous opportunities for involvement in diversity and culture initiatives, but as a recent arrival myself, navigating through a new university system has been especially challenging. There is no shortage of articles and think pieces on this broad topic (see the end of the article for links and recommendations), but successfully implementing change means knowing your own institution and the tools available to you.
All of this was the topic of conversation for Sheryl Arambula and me. Sheryl is a neuroscientist and postdoctoral fellow in the Pharmacology Department. We had a recent conversation over the phone and by email acknowledging how changing roles and universities can create a hurdle for postdocs wanting to get involved in diversity initiatives and committees on campus. To help with that effort, I (now halfway through my first year of a postdoc) asked Sheryl (now a third-year postdoc) how she navigated the process.
Natasha: What was it like navigating on-campus organizations or committees for diversity and inclusion? How did it compare to starting your postdoc?
Sheryl: As a newcomer, navigating on-campus organizations/committees can be a time-consuming process because many initiatives are short-lived, and the majority of university websites feature missing, outdated, or ambiguous information. On top of that, it's important to be strategic and contribute to organizations/committees that are influential and have broad support and participation from students, faculty, staff, administration, alumni, and senior leadership.
I attended a large public research university for graduate school (NC State) where there exist multiple federally funded programs that aim to nurture and empower trainees of all backgrounds at the undergraduate and graduate level, such as IMSD, TRIO, Ronald E. McNair Scholars Program, etc. At the University of Maryland, I've found that the majority of DEI initiatives are student-led.
Natasha: I definitely had a similar experience in grad school - seeing that initiatives that were student-led could come and go over the years of graduate school. Even though interest in DEI doesn't wax and wane, work does. In grad school, I remember just taking a long time to get acquainted with the resources available to me as a graduate student. I went to a liberal arts college for undergraduates, so all the academic resources were geared towards us. But as undergraduates, we also had limitations around how much impact we could make on a university level. Universities, I found out, have more levels of involvement possible – at a department level, a school (e.g., school of medicine, school of nursing) level, and then over the whole graduate institution. I think the pandemic has made this even less transparent and I'm still trying to learn the structure here.
Natasha: What has been your experience of figuring out opportunities on the department, school, and university levels?
Sheryl: During my postdoc training, I've benefited immensely from programs based at other institutions and organizations that provide networking, mentoring, and professional development opportunities for underrepresented groups in neuroscience. Through these I've gained a STEM family where I can engage as my whole self and combine my personal and professional identities. At the University of Maryland, I've found that most DEI initiatives are spearheaded by trainees.
What would your recommendation be for a postdoc who is new to this system? Where is a good place to start?
Sheryl: The Elm, a weekly publication at the University of Maryland, often features information about diversity-related seminars and lectures. I've also connected with DEI committees and initiatives outside of the University of Maryland, such as Johns Hopkins Diversity Postdoctoral Alliance (DPAC) and their annual Excellence in Diversity Program.
Who are people at UMB that might be good for postdocs to connect with around diversity, equity, and inclusion?
Sheryl: I would recommend postdocs look for school-specific or graduate-program specific initiatives for diversity and inclusion.
Thanks so much Sheryl! Below are some ideas of places to start and strategies:
February/March Career Development Events
UMB Flu Vaccine Clinic - Held on the second floor of the SMC Campus Center, this clinic also offers asymptomatic COVID-19 diagnostic testing. Register here.
Tuesdays

-

2

-4:45

PM

Fridays

-

9-11:45

AM
Strategies for a Successful Postdoc: Planning Your Path: Timeline for a Successful Postdoc. February 4th, 12-1 PM. Register here.
Launching Your Career in the Med-Tech Industry: BD's Technology Leadership Development Program Info Sessions. February 4th, 9th, or 10th. More information here, register here.
Mentoring Training Workshops for Students and Postdocs: Introduction and Effective Communication. February 8th, 12-1:30 PM. Register here.
Mentoring Training Workshops for Students and Postdocs: Aligning Expectations and Assessing Understanding. February 15th, 12-1:30 PM. Register here.
Grant Writing Class: Overview and Introductions for Grant Writing/Specific Aims. February 17th, 9-10 AM. Register here.
Tools for a Successful Postdoc: How to Effectively Communicate Your Science Panel. February 18th, 12-1 PM. Register here.
Scientific Writing Seminar Series: Writing Effective Titles and Abstracts. February 18th, 9-10 AM. Register here.
Mentoring Training Workshops for Students and Postdocs: Addressing Equity and Inclusion. February 22nd, 12-1:30 PM. Register here.
Grant Writing Class: Research Strategy Section- Approach. February 24th, 9-10 AM. Register here.
Mentoring Training Workshops for Students and Postdocs: Fostering Independence and Promoting Professional Development. March 1st, 12-1:30 PM. Register here.
Grant Writing Class: Research Strategy Section- Significance/Biosketch. March 3rd, 9-10 AM. Register here.
Tools for a Successful Postdoc: Navigating Conflict in the Workplace. March 4th, 12-1 PM. Register here.
Grant Writing Class: Research Strategy Section- Panel of successful grant awardees. March 10th, 9-10 AM. Register here.
Other Things We Saw and Liked This Month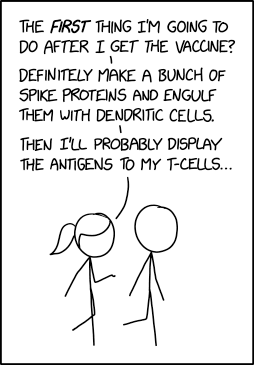 ---
As we enter Black History Month in the US, we have another opportunity to reflect on how we are actively participating in the deliberate work of breaking down systems of oppression in our academy. In the summer of 2020, the #BlackIn hashtag series swept Twitter as groups of Black scientists, particularly Black trainees, rallied together around their affiliated scientific disciplines (#BlackInAstro, #BlackInGenetics, #BlackInNeuro, #BlackInPhysics, etc). Angeline Dukes, the founder of the #BlackInNeuro hashtag and current president of the resulting Black in Neuro organization, which has now grown to both have its own website and hosted its own conference this fall, shares her thoughts on how to support Black trainees in the biomedical sciences.
Previous Issues