Freezer Identification Standards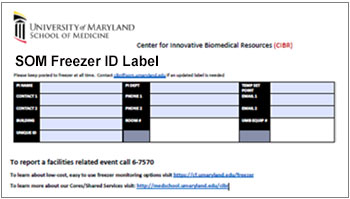 It is imperative that all freezers, refrigerators and temperature-sensitive instrumentation have signage attached to them so that, in the event of a facilities-related event, the owner can be identified and contacted by UMB Facilities Management.
The SOM's Center for Innovative Biomedical Resources (CIBR) and Office of Resource Management recommend using the Freezer ID Label Template. CIBR will email the research community annually to provide assistance with creating new and/or updating freezer labels but please feel free to use the template at any time.
Note: If you are looking for an easy to use, low-cost solution for monitoring your freezers, refrigerators and/or temperature sensitive instrumentation visit BIORESCO.
Freezer ID Label
Complete the form (the template includes fillable form fields).
Print the completed form.
Save the form to your computer for future use.
Post ID label on freezer.
NOTE: Please keep posted to freezer at all time.
Reporting Events and More Information