About Us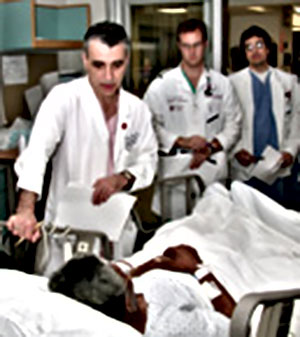 The Program in Trauma was established in September 1994 as a multi-disciplinary academic entity within the University of Maryland School of Medicine. It is dedicated to improving the care of patients with traumatic injury by developing basic and clinical research and by providing educational experiences for medical students, residents, and fellows as well as for nurses and other health care providers. Members of the Program have faculty appointments in appropriate departments within the School of Medicine. The faculty in the Program represents the principal medical staff at the R Adams Cowley Shock Trauma Center.

Program in Trauma faculty vigorously pursue building a knowledge base through extensive clinical experience and basic and clinical research activities in the areas of trauma, critical illness, and emergency medicine. With that knowledge, the Program strengthens the capabilities of caregivers throughout Maryland and is at the forefront of addressing associated quality of life and ethical issues. In addition, the Shock Trauma center serves as Maryland's principal trauma and critical care teaching site for training physicians, nurses, pre-hospital providers, and other health professionals.

Recognizing its role as the leader in Maryland's emergency medical system, the Program in Trauma is committed to strengthening the total system of care in clinical research, and achieving measurable improvements in injury prevention. The Program also serves as a national and international resource for the development of future leaders who will advance the development of trauma and emergency medical care systems.