For Patients and Physicians
National Reputation for innovation and excellence in advanced lung care
Interstitial Lung Disease Program
To speak to a lung
physician or to
make an appointment:
Call: 1-800-373-4111
The ILD Program includes an ILD clinic staffed by pulmonologists who are experts in the diagnosis and management of interstitial lung disease, rheumatologists with special expertise in rheumatic diseases involving the lung, radiologists who are experts in using high tech imaging to diagnose ILD and other common and rare lung disorders, and pathologists with special expertise in pathology of the lung. The ILD program takes an aggressive approach to establishing an accurate diagnosis and arresting and reversing interstitial lung diseases based on close patient monitoring and frequent medication adjustment. The ILD program is involved in clinical trials of new investigative drugs as well as basic research on the causes and potential treatments of ILD. The lives of hundreds of patients have been greatly improved by identifying treatments that successfully postponed or prevented the need for transplant. Learn More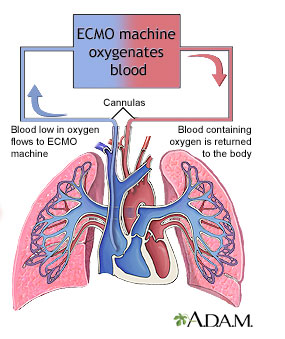 The Lung Rescue Unit (LRU) in the new trauma tower in the R Adams Cowley Shock Trauma Center is designed for patients who need innovative therapies and access to the latest clinical trials to manage their lung failure. Patients cared for within the Lung Rescue Unit include adults ages 18+ in need of total critical care for: end-stage respiratory failure in need of bridge to transplant and acute lung injury with need for Veno-Venous extracorporeal membrane oxygenation (VV-ECMO).
Physicians and nurses within the University of Maryland Medical Center have received national recognition for treating patients with advanced lung and heart failure by using this technique. Learn More
Lung Transplantation Program
By replacing lungs which have ceased to function effectively, the lung transplantation program provides new life -- new energy and new possibilities -- to people whose lives had been restricted by debilitating conditions Our physicians are aggressive in getting patients the care they need, and they bring a high level of skill and experience to their work.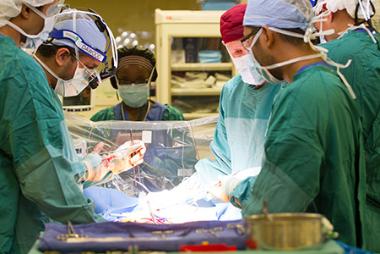 Although it treats more high-risk patients who are more likely to suffer complications, UMMC outcomes are strong and in line with national expectations according to the United Network for Organ Sharing. Data published in June 2014, the last reporting period for which figures are available, UMMC lung transplant rates had a one-year survival rate of 92 percent, the national average is around 86 percent. Learn More
Patient Success Stories
Victoria Chakwin gets lung transplant in time to attend senior prom. For a third of her life, Victoria Chakwin battled pulmonary fibrosis, a disease marked by scarring in the lungs that literally took her breath away.
Lung and respiratory failure affects more than 200,000 Americans each year, including those affected by Chronic Obstructive Pulmonary Disease (COPD), H1N1 influenza, pulmonary fibrosis and other disease and conditions that cause acute breathlessness.
Brittany Davenport, a young mom, was diagnosed with acute respiratory distress syndrome and received a double lung transplant.
Sue Dunnett became the first patient in the U.S. to undergo a lung transplant using donor lungs repaired during the ex vivo lung perfusion (EVLP) process. Three years later she is enjoying her new healthy lifestyle.