Program Strengths
Nationally-Recognized Strengths in Lung Transplantation
Faculty within the Department of Surgery at the University of Maryland School of Medicine have a superb reputation for redefining pulmonary research and advancing surgical options for patients with critical lung illnesses," says Stephen Bartlett, MD, the Peter Angelos Distinguished Professor of Surgery and Chair, Department of Surgery. For example, Richard N. Pierson, III, MD, Professor and Senior Associate Vice Chair for Research in the Department of Surgery is a recognized leader in basic and translational research related to transplant immunology and xenotransplantion.
"Each year our researchers and surgeons earn millions of dollars in grant funding so that we can better understand and address lung disease for patients at our institution and around the world. This Program in Lung Healing will pave the way for even more research opportunities to change the lives of patients and families who are desperate for answers," adds Dr. Bartlett, who is also the Surgeon-in-Chief and Senior Vice President for the University of Maryland Medical System.
Leveraging UM Medicine's Leadership in Shock Trauma and Critical Care
The University of Maryland School of Medicine is regarded as a world leader in trauma. Last year, the University of Maryland Medical Center (UMMC) opened its new 140,000 sq ft Shock Trauma Critical Care Tower as the new home of its pioneering R Adams Cowley Shock Trauma Center, with the capacity of serving more than 8,000 patients with lifesaving care annually.
In 2014, the Center opened a Lung Rescue Unit to evaluate and immediately determine the most effective treatment for each lung patient and serve as a bridge to either lung healing or transplantation. Si M. Pham, MD, Professor of Surgery, serves as surgical director of the Lung Rescue Unit, and Jay A. Menaker, MD, Associate Professor of Surgery, whose clinical specialty is in Emergency Medicine and Trauma/Critical Care, is medical director of the Unit.

Building on Discovery and Innovation in Pulmonary Medicine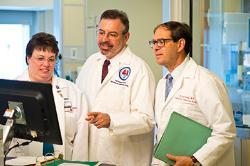 The University of Maryland School of Medicine iis widely recognized for its significant research and discovery in the field of pulmonary medicine. Led by Stephen N. Davis, MBBS, the Theodore E. Woodward Endowed Chair and the Professor and Chairman of the UM SOM Department of Medicine and Physician-in-Chief at UMMC, and Jeffrey D. Hasday, MD, the Herbert Berger Professor of Medicine and Head of the Pulmonary & Critical Care Medicine Division, faculty in the Division, along with faculty in the UM SOM Departments of Surgery and Anesthesiology, have participated in the NIH-funded ARDSNet (Acute Respiratory Distress Syndrome Clinical Research Network) for over two decades.
ARDSNet studies performed at the University of Maryland School of Medicine have tested various approaches to ventilation, fluid support, optimal nutrition, and existing medications including statins and pentoxyphylline. The low tidal volume study, which was the first to show improved survival in patients with ARDS, was based on an original study performed at the University of Maryland School of Medicine. Additional clinical research is focused on optimizing supportive care in patients with acute lung injury and developing new therapies that block lung injury.
Dr. Hasday's laboratory is internationally recognized in the field of thermobiology, specifically how fever may worsen and hypothermia may improve ARDS. Other research in the Division focuses on a broad range of issues related to the prevention, arrest and reversal of lung disease. Current studies focus on deconditioning of ICU patients using an integrated program of physical rehabilitation, ventilator weaning and nutrition; genetic causes of COPD; mechanisms of acute lung injury including the benefit of blocking fever and developing new drugs; cutting-edge therapy of severe asthma using bronchial thermoplasty; and multiple basic mechanisms of lung injury, fibrosis and recovery that have the potential to lead to the next generation of therapeutics and diagnosis.