About Us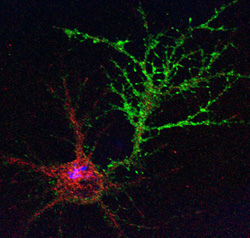 The Department of Neurology is at the forefront of discovery in the battle to conquer a wide variety of neurological disorders and is one of the top 10 programs in the country in research funding for a variety of neurological diseases. Our faculty are working every day to make life easier for those dealing with Parkinson's, Alzheimer's, epilepsy, multiple sclerosis, strokes and other debilitating diseases.
Among Our Accomplishments:
Department of Neurology researchers recently found a strong association between specific genetic variations and increased risk of stroke in younger women. They hope to use this discovery to someday develop a genetic test to identify women who may be at greater risk of stroke, so at-risk women can receive more intensive screening and counseling for other stroke risk factors such as smoking, high blood pressure and the use of oral contraceptives.
Faculty from our department staff the Parkinson's Disease and Movement Disorders Center at the University of Maryland Medical Center.
Free seminars are offered by faculty members to those considering Deep Brain Stimulation (DBS) to offset the ravages of Parkinson's disease.
Many members of our department are part of the Brain Attack Team (BAT), a highly specialized team of neurologists, neurosurgeons, nurses and other health professionals who provide the rapid evaluation and initiation of treatment for brain attack (stroke) patients, using the most advanced approaches and technologies.
Other faculty staff the Maryland Center for Multiple Sclerosis.