Laryngology and Professional Voice
Dr. Elizabeth Guardiani provides comprehensive care for all adult airway, voice and swallowing disorders. These include both benign and malignant disorders of the airway and those requiring complex reconstruction. She also has well known expertise in the management of laryngeal and tracheal trauma. She works closely with our two speech pathologists as well as with subspecialists in gastroenterology, pulmonology and thoracic surgery to provide multidisciplinary care to patients.
Doctors Kevin Pereira and Amal Isaiah provide advanced pediatric airway care dealing with both congenital and acquired disorders. They provide critical airway support to the neonatal and pediatric intensive care units at the University of Maryland Children's Hospital.
‌‌‌Disorders commonly seen:
Vocal fold paralysis
Laryngeal or tracheal scarring
Complications of tracheotomy
Paradoxical vocal fold motion disorders
Benign lesions of the larynx such as polyps, nodules and cysts
Neurologic disorders of the larynx affecting the voice
Laryngeal Cancer
Swallowing disorders including Zenker's diverticula
Chronic cough
Services provided include:
High definition stroboscopy and laryngoscopy
Botox injections to the larynx and jaw
In office laryngeal biopsies, laser treatments and injections
Phonomicrosurgery
Laser surgery of the larynx and airway
Rehabilitation of Vocal Fold Paralysis
Tracheotomy Decannulation Evaluation
Surgical management of airway disease
Faculty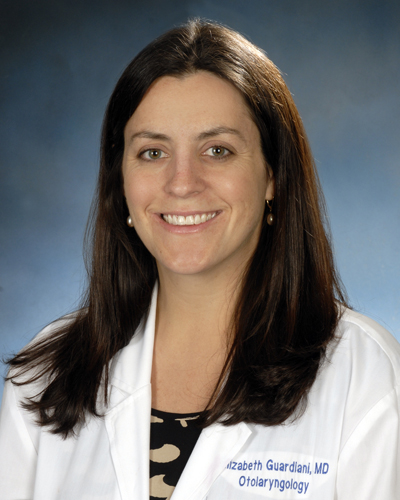 Elizabeth A. Guardiani, MD
Associate Professor and Director

Grace Snow, MD
Assistant Professor