New Safe Lifting Calculators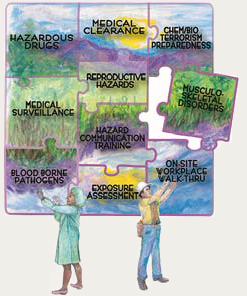 We are an interdisciplinary team of physicians, nurses and PhD researchers working to prevent workplace illness and injury.
We study how long-term care facilities prevent Musculoskeletal disorders among caregivers through use of powered mechanical lifts to transfer residents from bed to chair.
We surveyed Directors of Nursing (DONs) in 270 long-term care (LTC) facilities across the nation on their safe lift policies and practices.
This work was supported by the Commonwealth Fund.
Our partners at the National Council on Compensation Insurance joined our survey data to their workers compensation data to see how much safe lifting can save in workers' compensation costs.
Here you can interactively:
Take a look at our newsletter containing survey results.