Warren Alpert Foundation Scholarship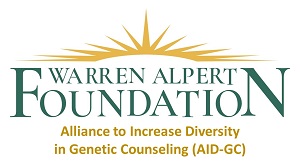 Alliance to Increase Diversity in Genetic Counseling Scholarships
Full tuition scholarships + living expenses for students underrepresented in genetic counseling
A Critical Need for Diversity in Genetic Counseling
Nationwide, research and healthcare delivery is significantly hampered by the disproportionate underrepresentation of clinicians from the following groups: racial and ethnic minorities, individulas with disabilities, first-generation college graduates, and those from low-income backgrounds. Diversity is critical to expanding our knowledge base, as it provides different viewpoints and approaches to significant problems.
Research and clinical care in genetics and genomics have a particular need for culturally sensitive clinicians who understand the deeply rooted cultural and social differences and beliefs that underlie attitudes toward genetic testing, treatment, and research.
Patients may prefer to receive care from a clinician with firsthand knowledge of the barriers encountered by underrepresented groups. Genetic counselors are trained to provide empathic responses, listen without judgment, and promote diverse ideas with their patients. These skills are precisely the ones necessary to promote inclusion and diversity.
---
A Generous Philanthropist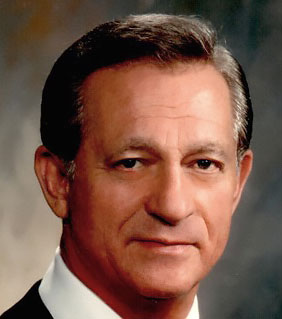 The project is funded by the Warren Alpert Foundation, a non-profit organization that supports innovative individuals and organizations dedicated to understanding and curing disease through groundbreaking research, scholarship, and service.
The focus of the Foundation is to improve the health of the public through grants and programmatic activities progressing towards attaining or perfecting medical treatments or cures through basic research, translational and outcomes research as well as through health education.
The Foundation is extraordinarily forward-thinking in making this generous funding available to address a critical need to diversify the genetic counseling workforce as the implementation of genomic medicine continues to rapidly expand.
---
A Visionary Partnership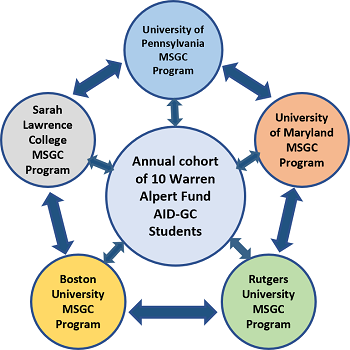 The Warren Alpert Foundation Alliance to Increase Diversity in Genetic Counseling (AID-GC) is a partnership between five accredited genetic counseling training programs, with an overall goal of increasing the number of genetic counselors from underrepresented backgrounds. The consortia members include the genetic counseling programs at University of Maryland School of Medicine; University of Pennsylvania; Boston University; Rutgers, The State University of New Jersey; and Sarah Lawrence College.
With a five-year, $9.5 million dollar grant from the Warren Alpert Foundation, the AID-GC program will recruit and train a total of 40 genetic counseling students, providing full tuition scholarships and stipends to cover living expenses. Each of the five consortia programs will recruit two underrepresented in genetic counseling (URiGC) students per year to be AID-GC Scholarship recipients.
AID-GC Scholarship recipients will participate in all their programs' regular coursework, fieldwork, research, and activities. The educational experience will be enhanced by monthly meetings of all AID-GC scholars, some virtual and some in-person. Monthly meetings will allow each cohort of ten students among the five programs to participate in workshops and develop a community of peers. This support is essential as graduates will enter a profession with few role models. Each student will also have the support of a faculty mentor and a mentor who is a practicing genetic counselor.
---
A Community of Leaders
Alumni of the program will be uniquely positioned to be role models for future URiGC students who wish to become genetic counselors. Even as students, AID-GC scholars will have the opportunity to be role models. Each consortia program will develop outreach efforts unique to its local environment, and through these efforts AID-GC scholars will promote genetic counseling as a cutting-edge health care profession to undergraduates and high school students. Efforts will include traditional tools such as in-person career day presentations and paid internship opportunities that enhance understanding of the profession and improve chances of success when applying to graduate schools.
---
Apply for the WAF AID-GC Scholarship
Applicants will apply through each program's typical application process, but in addition, will submit an essay specific to the Alliance to Increase Diversity (see details below) and rank the AID-GC track on the NMS website.
The admissions committee for the University of Maryland Master's in Genetic Counseling Program welcomes scholarship applicants from underrepresented individuals in genetic counseling.
If you are eligible and wish to apply, please respond to the essay prompt below and follow these directions to apply for the Warren Alpert Foundation Alliance to Increase Diversity in Genetic Counseling Scholarship at the University of Maryland School of Medicine:
Complete the online application for the University of Maryland MGC Program and upload all required supporting documents. The deadline for the University of Maryland MGC program is January 8, 2024
Use this essay prompt to complete the additional essay for the scholarship application:

In actively helping to diversify the field, what may be some ways to promote the inclusion of underrepresented voices in genetic counseling in the future? (Word limit - 300)

*The essay prompt for the Warren Alpert Foundation Alliance to Increase Diversity scholarship is the same for all five consortia programs.
Rank the University of Maryland WAF AID-GC track on the NMS website and submit your ranked list by the April 9th deadline.