Student Health
Our Mission
"We meet the health care needs of students by establishing Student Health as the center of student wellness".
The Student Health Office is located at 408 W. Lombard Street lower level, close to the corner of Paca and Lombard Streets. It is supported by student health fees, which are included in tuition. The Student Health administrative office is open Monday through Friday 8am to 4:30pm.
The office is staffed by Mrs. Denise Mitchell, RMA. Niharika Khanna is the interim Student Health Medical Director. The office's direct line is (667) 214-1883 and the fax line is 410-328-7924. Your student ID will serve as your student health ID.
Services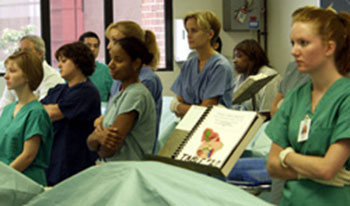 Routine student health care and immunization administration is provided by the University of Maryland Family & Community Medicine Associates, P.A. physicians and nurse practitioners at the UMaryland Immediate Care office located at 408 W. Lombard St. upper level. The office is open at 7am and closes at 5pm. Please call (667) 214-1899 to schedule an appointment.
The following services are provided to University of Maryland, Baltimore students:
Annual& physicals
Routine gynecological examinations, including Pap smears

Birth control pills are available by prescription
IUD and implant insertions

Telemedicine appointments
Acute & chronic visits
Treatment of minor injuries
Allergy shot administration
Blood pressure screening
Travel Consults
COVID evaluation and testing
Immunization updates
Additional services for which fees that will be charged to your insurance and that you may have a co-payment amount:
Diagnostic imaging and laboratory testing, IUD/implant insertions, minor surgeries such as joint injections.
An on call provider can be reached after hours and on weekends at 667-214-1899.
Student Health is dedicated to providing you with the highest quality care in a friendly and expedient manner. The office sees itself as your "wellness hub away from home." The staff maintains a policy of strict confidentiality and will not release information without the student's written permission.
How to use student health
To Drop Off Paperwork or Review of Your Immunization Needs:
Student Health Administrative Office
408 W. Lombard Street, Lower Level
Phone: 667-214-1883
Hours: 8:30a-4:30p
www.umaryland.edu/health
shealth@som.umaryland.edu
Call to schedule an appointment. *Same day/next day access is available for in person/telemedicine visits. Walk-Ins are available but to avoid long wait times, we encourage scheduling an appointment in advance.
University Campus Health
408 W. Lombard Street, Upper Level
Phone: 667-214-1899
Hours: 7am-4:45pm
Shot Times
For TB screening and all other immunizations:
University Campus Health
408 W. Lombard Street, Upper Level
Shot times only: Mondays, 1:30p to 4p and Fridays, 9a-12p *Subject to change
Appointment required
Self schedule your vaccination updates by clicking here

UMB Immunization Requirements
All students must comply with the University's requirements prior to beginning classes and upload required documentation to Castlebranch. Non-compliant students will receive a registration hold the subsequent semester.
Student Waivers
Students who are covered by another health insurance and desire to waive the school's insurance plan must submit a waiver to Gallagher and proof of comparable insurance benefits and limits to the Billing Office at 29 S. Paca Street, Lower level.
Needle Stick Procedures
When a student is exposed to Blood-borne Pathogens (BBP) such as needle sticks and/or human body fluids, the following procedures are to be followed. Monday - Friday from 8:30-4:30, the following must be done in conjunction with the office of Student Health under the direction of Mario L. Majette, MD, MPH *
Call (667) 214-1886 (BBPE hotline). Someone will respond within 10 minutes.
Please refer to this site for further instructions: https://www.umaryland.edu/studenthealth/urgent-needs/blood-borne-pathogens-exposure/
In the unlikely event that you do not get a call back from the second call, call 667-217-1899, tell the operator you have a needle stick or body fluid exposure and you must speak to a University Immediate Care on call provider.
Key Phone Numbers
To schedule an appointment: 667-214-1889
To reach a physician and after hours: 667-214-1899
To speak to the student health center staff (e.g., request medical records or ask procedural questions such as time of walk-ins for immunizations, TB testing and allergy shot administration): 667-214-1883.