About Us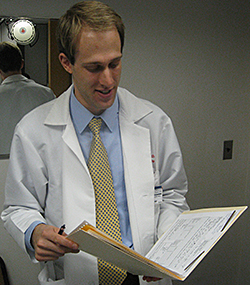 The University of Maryland School of Medicine Department of Dermatology provides a comprehensive array of patient care services, a highly competitive resident training program, and undertakes clinical and basic science research to advance the field of dermatology.
Patient Care
The Department of Dermatology treats more than 13,000 patients annually most on an outpatient basis; collects and analyzes approximately 10,000 laboratory specimens for diagnosis of disease; and performs more than 10,000 minor surgeries each year and about 500 specialized Mohs micrographic surgeries for the treatment of skin cancers that are recurrent, more aggressive or located in areas of high risk.
Learn more about clinical services offered by the Department of Dermatology.
Education
The University of Maryland offers a highly competitive three-year accredited program in Dermatology. We operate the largest clinic in the area and our program offers a cooperative attending staff, a large number of patient encounters and a clinic experience where residents follow patients over an extended time. The fact that residents attend clinics daily and have primary responsibility for patients is unique in American dermatological programs. One resident serves as an in-hospital consultant; another runs a busy phototherapy unit.
Learn more about the Department of Dermatology Curriculum at the University of Maryland School of Medicine.
Learn more about the Department of Dermatology Resident Training Program.
Research
The Department of Dermatology is actively engaged in research and ranks 40th of 126 for funding through the National Institutes of Health. Faculty and staff are pursuing research interests in the study of skin allergies, allergic reactions to natural rubber latex, the mechanism of allergic cutaneous inflammation and signal transduction pathways in basal cell carcinoma. Residents are required to participate in a research project.
The department also owns and operates the University of Maryland Dermatopathology Laboratory. The lab occupies about 2,000 square feet and is equipped with state of the art histology machines, is ASCP certified and follows all CLIA regulations
Learn more about research in the Department of Dermatology.