Chief Resident's Perspective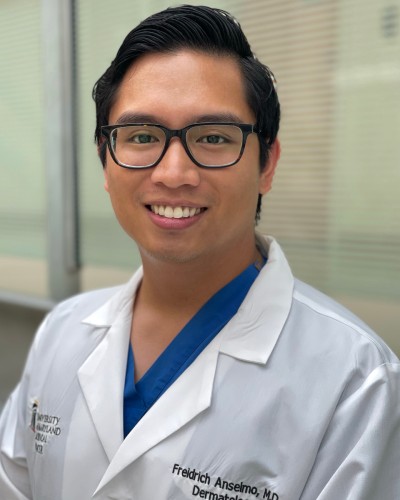 Thank you for your interest in the University of Maryland Dermatology Program! We have 2-3 residency spots per year and typically conduct our interviews of 20-30 candidates during the month of January. Our residents spend significant time together, both inside and outside of work. Our program director, Dr. Driscoll, works very closely with us and is receptive to our ideas about how we want to tailor our residency experience to our particular interests.
Our inpatient consult service covers the University of Maryland Medical Center, including the R Adams Cowley Shock Trauma Center and the Greenebaum Comprehensive Cancer Center. As a tertiary-care academic hospital, we see the most complex medical dermatology cases in the region.
Our department is located across the street from the hospital in the Redwood Building, which features our academic offices, conference room, main outpatient clinics, and Mohs Surgery Center. Residents also rotate at the Baltimore VA Medical Center, conveniently linked by skyway to the University hospital. Finally, our satellite clinics in Columbia help us to serve the greater Baltimore area and give us exposure to dermatologic practice in a more suburban setting.
Our residents excel at dermatologic surgery, performing surgeries during their first weeks of training. We serve an exceptionally diverse patient population, and residents gain experience at managing high-acuity, complex patients with conditions spanning the entire breadth of dermatology in all skin types.
Located in the heart of downtown Baltimore, our program is just a short walk from Oriole Park at Camden Yards, the Baltimore Ravens' stadium, and the Inner Harbor. Many of our dermatology residents live in downtown Baltimore, or in the nearby neighborhoods of Federal Hill, Mt Vernon, and Fell's Point. A quick drive or train ride makes Philadelphia, Washington, D.C., and New York City highly accessible for day or weekend trips
Freidrich Anselmo, MD
Chief Resident