Medical Residency
Program Highlights
The University of Maryland Radiation Oncology Residency Program is a four-year training program fully accredited by the Accreditation Council for Graduate Medical Education (ACGME) since 1973. We are accredited for 12 resident positions, with funding for 11.
There are 15 full-time and 7 part-time core clinical faculty members in the department, all of whom are involved in the educational experience on a daily basis. Our program offers training across multiple practices in Maryland, including the major academic center, University of Maryland Medical Center (UMMC) the Maryland Proton Treatment Center (MPTC) in downtown Baltimore, and community-based rotations at UM Baltimore Washington Medical Center (BWMC) in Glen Burnie and Central Maryland Radiation Oncology (CMRO) in Columbia. 90% of resident training time is spent at UMMC and MPTC in downtown Baltimore City.
The unique training experience at the University of Maryland includes well-developed didactics during protected time, and excellent supportive resources that promote growth and success throughout the training journey.
---
Program Directors' Welcome
Welcome to the University of Maryland Radiation Oncology Residency Program
On behalf of the entire faculty, we would like to welcome you to the radiation oncology residency program at the University of Maryland.
We are committed to providing you with the highest-quality training experience. Our goal is to produce well-rounded, compassionate physicians with exceptional clinical skills who will go on to be the next leaders in the field.
The University of Maryland offers a diverse clinical experience and incorporates training with state-of-the-art technology including pencil beam scanning proton therapy, stereotactic radiation, brachytherapy, radioembolization, the unique GammaPod and thermal therapy. As a leading academic center, we will also help develop your research interests and offer dedicated research time along with top-notch faculty mentorship.
Our faculty provide a supportive environment for learning, and the residency program is invested in helping you develop both as a person and as a professional. We value and respect the diversity of our residents, faculty, and staff, and the positive impact that diversity has on our department's evolution. We provide an open and inclusive environment where employees are treated equitably, regardless of who they are. Our department's unique and active DEI Committee has a resident member to help represent the input of our trainees.
Please take a look at the website which we hope offers an overview of some of the advantages of completing training at the University of Maryland. If you have further questions, feel free to contact us for more information. We hope you consider applying to our program so that we can show you all our residency has to offer!
Warmly,
Sarah & Wendy
---
Program Information
Curriculum and Benefits
All residents are formally mentored in research projects throughout their four-year training. Our residency program has a proven track record of research productivity, and our faculty are here to support success and development. At the University of Maryland, we support our residents' diverse interests and encourage them to pursue the areas that they are most passionate about.
All PGY-4 residents will have a 10-month professional development or research block with the opportunity to extend up to 12 months. Residents are also allowed two clinical elective rotations.
Anonymous resident feedback is collected and evaluated by program leadership annually, and incorporated into our educational curriculum.
Each resident receives over $12,000 in support for approved work-related expenses such as: conference attendance and travel, presentations, publications, books and home computers or laptops, online subscriptions, elective rotations, wellness team-building activities, and job-related fees. For more information, please visit our Administrative Information and Program Benefits page.
Technology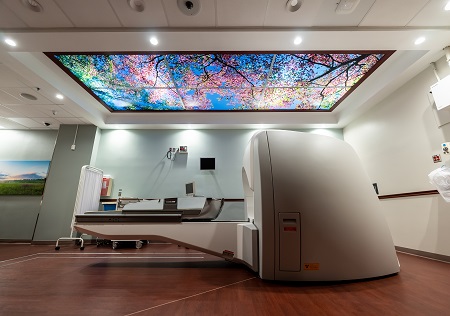 Clinical trainees have the opportunity to train in a diverse array of technologies, including proton therapy, stereotactic radiosurgery, brachytherapy, the GammaPod, and hyperthermia therapy.
Diversity, Equity and Inclusion
We value diversity among our department's faculty, trainees, staff, and patients. We aim to recruit and support trainees with diverse backgrounds and experiences, and provide an inclusive and welcoming learning environment for all. Our residents and leaders welcome open communication and conversations.
Members of the Department of Radiation Oncology are leaders in addressing healthcare disparities and the cancer care needs of underserved populations. Minorities represent nearly half of patients enrolled in University of Maryland Medical Center clinical trials, which is three times the national average.
Our department has an active Diversity, Equity and Inclusion (DEI) Committee, which offers multiple trainings and seminars to employees throughout the year. The residency program has a representative on the committee, and all residents are encouraged and supported to participate in any DEI Committee events.
---
Learn More