Division Director, Movement Disorders
Director, University of Maryland Parkinson Disease and Movement Disorders Center; The Rosalyn Newman Distinguished Scholar in Parkinson's Disease
Education and Training
Medical School: University of Miami Miller School of Medicine
Internship: Mount Sinai Medical Center of Miami Beach - General Medicine
Neurology Residency: University of Miami Jackson Memorial Hospital
Fellowship:
University of Miami Jackson Memorial Hospital - Neurology/Movement Disorders
American Academy of Neurology– Public Policy Fellow in the US House of Representatives
Certifications: American Board of Psychiatry and Neurology
Biosketch
Lisa M. Shulman MD is a neurologist specializing in Parkinson's disease and other movement disorders. In addition to neurology, her diverse background includes training in health policy, nursing and education. She is the Eugenia Brin Professor of Parkinson's Disease and Movement Disorders and the Rosalyn Newman Distinguished Scholar in Parkinson Disease. Dr. Shulman serves as Treasurer of the American Academy of Neurology and Director of the University of Maryland Movement Disorders Center. She serves on the Board of Directors of both the American Academy of Neurology and the American Brain Foundation.
Dr. Shulman's major research interest is the impact of chronic neurologic diseases such as Parkinson disease on daily function and quality of life. Related interests include outcomes measurement, health disparities, exercise interventions, biosensor assessments of mobility, and cognitive/behavioral problems in Parkinson's and related movement disorders. She has served as Investigator and Principal Investigator in numerous investigator-initiated and sponsored clinical trials including trials of exercise interventions in Parkinson disease, development of new instruments for measurement of outcomes, and investigation of the genetics of Parkinson disease. Dr. Shulman served as Principal Investigator for the NIH PROMIS Initiative (Patient-reported Outcomes Information System) to develop a new measure of Self-Efficacy for Managing Chronic Conditions. She is currently co-PI on a Seed Grant Challenge to develop innovative quantitative models for data visualization and analysis of big data- complex datasets of health outcomes.
Dr. Shulman is Editor-in-Chief of Neurology Now Books and co-author of the reference book Parkinson's Disease: A Complete Guide for Patients and Families, now in its third edition and translated in 3 languages. She is author or editor of 16 books, 30 chapters, 140 peer-reviewed publications and 170 abstracts.
Research/Clinical Keywords
Clinical Practice Special Interests: Management of Parkinson disease and parkinsonism, dystonia, tremor, chorea, tics, myoclonus, gait disorders, tardive dyskinesia, dementia, memory disorders and Botulinum toxin injections for movement disorders, the effects of movement and memory disorders on daily function and quality of life, exercise interventions, gait problems, self-management, self-efficacy, caregiver strain, outcomes research, data visualization and health disparities,Parkinson's Research - Biomarkers, Informatics and Outcomes Visualization
Highlighted Publications
Shulman LM, Armstrong M, Ellis T, Gruber-Baldini A, Horak F, Nieuwboer A, Parashos S, Post B, Rogers M, Siderowf A. Goetz CG, Schrag A, Stebbins GT, Martinez-Martin P, Disability Rating Scales in Parkinson's Disease- Critique and Recommendations, Movement Disorders 2016.
Parashos SA, Luo S, Biglan KM, Bodis-Wollner I, He B, Liang GS, Ross GW, Tilley BS, Shulman LM for the NET-PD Investigators, Measuring Disease Progression in Early Parkinson Disease, The National Institutes of Health Exploratory Trials in Parkinson Disease (NET-PD) Experience. JAMA Neurol. 2014 Jun 1;71(6):710-6.
Shulman LM, Katzel LI, Ivey FM, Sorkin JD, Favors K, Anderson KE, Smith BA, Reich SG, Weiner WJ, Macko RF, Randomized Clinical Trial of Three Types of Physical Training in Parkinson's Disease, JAMA Neurol. 2013, 70(2):183-90.
Hemming JP, Gruber-Baldini AL, Anderson KE, Fishman PS, Reich SG, Weiner WJ and Shulman LM, Racial and Socioeconomic Disparities in Parkinsonism. Arch Neurol, 2011;68(4):498-503.
Shulman LM, Gruber-Baldini AL, Anderson KE, Fishman PS, Reich SG, Weiner WJ, What is a Clinically Important Difference on the United Parkinson's Disease Rating Scale?, Arch Neurol. 2010;67(1):64-70.
Shulman LM, Gruber-Baldini AL, Anderson KE, Vaughan CG, Reich SG, Fishman PS and Weiner WJ, The Evolution of Disability in Parkinson Disease, Movement Disorders; 2008:23(6):790-796. 

Parkinson's Research - Biomarkers, Informatics and Outcomes Visualization
Finding Needles in a Haystack – The Challenge of Big Data
The more we understand about Parkinson's disease, the more types of data we collect. For the last 15 years, patients visiting our center participate in reporting their personal experience with motor and non-motor symptoms, receive in depth assessments of gait and balance with sophisticated biosensors and consent to blood tests for genetic analysis. This large research database with over 2,500 PD patients and 20,000 office visits includes information on gait and balance, dexterity and tremor, depression and anxiety, as well as sleep and fatigue.
Finding the key inter-relationships and patterns among all this data can be like finding needles in a haystack. To meet this challenge, we are collaborating with data scientists at the University of Maryland at College Park to apply the latest technologic advances to fully capitalize on this valuable data repository. The result of this collaboration is the unique visual data mining tool, BIO-VIS.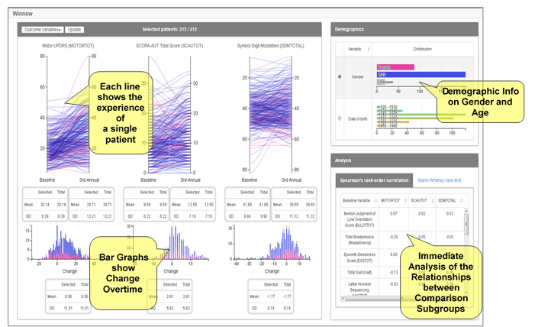 What make BIO-VIS unique? The user simply chooses the data and analyses of interest with a few clicks of the mouse to receive answers to clinical questions in an instant. BIO-VIS is intuitive, interactive and insightful- valuable to both scientist and clinician, and easily adaptable for use with other datasets. BIO-VIS provides the means to hone in on promising hypotheses that justify further investigation. BIO-VIS will increase the value of big data collections by revealing the key patterns and inter-relationships that will move discovery forward.