Medical Physics Residency
Medical Physics Residency Training Overview
The University of Maryland Radiation Oncology Medical Physics Residency Program is a two-year training program.
---
Mission Statement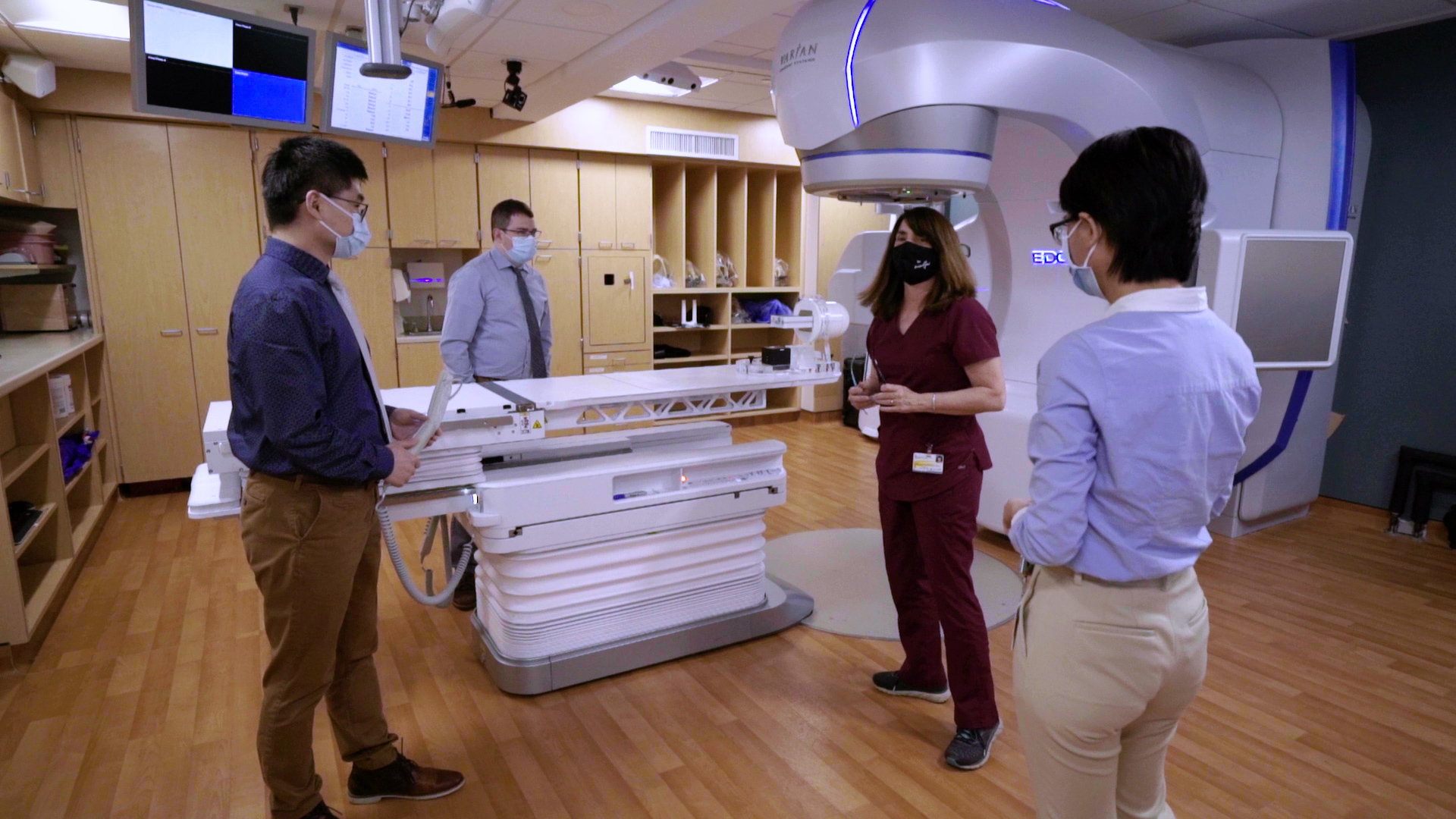 Our residency education mission is to cultivate an educational environment which provides the full spectrum of learning opportunities in clinical medical physics, radiation oncology and radiobiology. Our flexible curriculum is designed to enable a resident to optimize their learning experience throughout their two years of training. It is our expectation that upon completion of the program a resident will be an outstanding Radiation Oncology Physicist, capable of making immediate impacts in either academic or community practice settings.
Pictured Above: Program Director Dr. Mariana Guerrero with Physics Residents at the Varian Edge™, a state-of-the-art linear accelerator with a real-time motion monitoring system
---
Prerequisites
You must possess:
PhD in Medical Physics or
PhD or equivalent degree in physics, or relevant fields with following six subjects taken (either taken or plan to take during the training period) college level or above:

Radiological Physics and dosimetry
Radiation Protection and Radiation safety
Fundamentals of Imaging in Medicine
Radiobiology
Anatomy and Physiology
Radiation Therapy Physics
---
Residency Curriculum
Sixteen clinical rotations during the 24-month resident training period are assigned as required core clinical rotations. Clinically oriented practical projects are also assigned as part of clinical training.
---
Teaching Format
Teaching is carried out through didactic lectures, clinics and numerous teaching conferences, with emphasis on patient care, under the supervision of full-time staff. The department enjoys state-of-the-art equipment and operates several sites both on and off- campus, which include: a main facility in the Gudelsky Tower of the University of Maryland Medical Center, the Maryland Proton Treatment Center (MPTC) in downtown Baltimore, the Central Maryland Radiation Oncology Center in Columbia, the Upper Chesapeake Health Patricia D. and M. Scot Kaufman Cancer Center at Upper Chesapeake Health in Bel Air, the Tate Cancer Center at Baltimore Washington Medical Center in Glen Burnie, and the Requard Radiation Oncology Center at University of Maryland Shore Regional Health in Easton.
There are many intradepartmental and interdepartmental conferences to attend. It is essential to the success of our teaching program that our residents attend all departmental conferences and all interdepartmental conferences appropriate for each rotation. They are designed to teach all levels of trainee, and accomplish important patient care functions on a daily basis. Residents are expected to present physics related procedures and assigned projects to the department. Handouts (paper or electronic) are mandatory for prepared presentations. A few highlights from our teaching format include the following:
Attending lectures
Clinical talks (topic-based)
Case presentations (focused on background/workup OR on management of disease)
Dedicated mock orals
Guest attending lectures
Journal Club (clinical and biological)
Physics/radiobiology Talks
Technology rounds
Visiting professors
---
Research Opportunities
Research opportunities under the direction of selected faculty are available throughout the two-year program. The topics will be focused on clinical questions and address the need of our clinical practice. Each resident completes several clinical projects during residency training and is assigned at least one specific project to submit to AAPM. It is expected that residents present their work at professional society national and local meetings.
---
Numbers of Applicants & Graduates
CAMPEP Residency Standard 2.11 states "A program must publicly describe the program and the achievements of its residents, preferably through a publicly-accessible website. This information must be updated no less often than annually and must include the numbers of applicants to the program, applicants offered admission, residents entering the program, and graduates. Information on the destinations of graduates shall also be provided, i.e., numbers in academics, clinical practice, industry positions, etc."
The following tables provide such information:
Physics Residency Program Applicants
Physics Residency Program Graduates
---
State-of-the-Art Clinical Training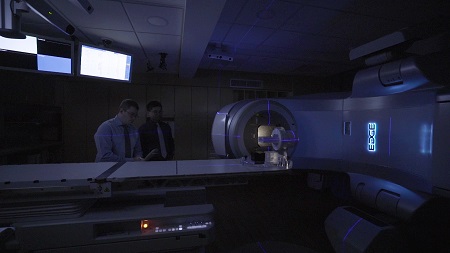 The Department of Radiation Oncology at the University of Maryland is strongly committed to maintaining the quality of our educational program. Our department is at the forefront of innovation with its nationally recognized Medical Physics Division and Division of Translational Radiation Sciences (DTRS), which provide outstanding clinical and research experiences for trainees. As trainees, you will have the opportunity to train in the following technologies which include, but are not limited to:
External Beam Radiation Therapy

External Beam with 12 Varian Linear Accelerators including the TrueBeam Edge, TrueBeam, and Trilogy
3DCRT/IMRT/VMAT
RapidArc
Stereotactic Radiosurgery (SRS): A dedicated TrueBeam Edge system that reaches submillimeter accuracy level including flattening filter-free (FFF) photon beam, HD-MLC, 6D couch, and optical surface monitoring system (OSMS)

Low-dose rate (LDR) Brachytherapy

Radioactive iodine (I-125) seed implantation for prostate cancer
Radioembolization or Selective Internal Radiation Therapy (SIRT) for liver tumors with SIR-Spheres Y-90
Xofigo therapy treatment (radioactive radium Ra-223 dichloride) for prostate cancer metastatic to bones.

High-dose rate (HDR) Brachytherapy

State-of-are equipment: two Elekta Flexitron afterloaders and one Varian Bravos afterloader
Intracavitary treatment of Gynecologic cancer with vaginal cylinder, Tandem & Ring, and Tandem & Ovoid applicators
Interstitial treatment of Gynecologic cancer with Venezia applicator or needles with Syed templates
SAVI treatment for breast cancer
HDR brachytherapy for prostate cancer
HDR brachytherapy for skin cancer

Hyperthermia Therapy

Deep Hyperthermia Therapy with BSD-2000 Deep Regional Hyperthermia System
External Hyperthermia Therapy with BSD-500 Microwave Hyperthemia System
Interstitial Hyperthermia Therapy with BSD-500 Microwave Hyperthemia System

Respiratory Monitoring and Motion Management

Breath-hold treatment with Vision RT system for breast cancer patients
Breath-hold treatment with SDX breath monitoring system for thoracic and abdominal cancer treatment
Abdominal compression with a belt in reducing the respiratory tumor motion for thoracic and abdominal cancer treatment

Proton Therapy

Varian ProBeam Pencil Beam Scanning System with 4 rotational gantry rooms and 1 fixed gantry room
Image-guided proton therapy with on-board imaging (OBI) system, CBCT, and Vision RT
6D robotic couch

Image Guided Radiation Therapy (IGRT)

MV Portal Imaging
OBI/CBCT
Vision RT System/ AlignRT
Calypso System

Imaging System for Treatment Planning

Six CT scanners with 4DCT capability
A Dual energy CT scanner
A MRI scanner

Advanced Treatment Planning System (TPS)

RayStation TPS from RaySearch Laboratories
Eclipse TPS from Varian
Oncentra Brachytherapy TPS from Elekta
VariSeed TPS for prostate seed implant from Varian

GammaPod Treatment Unit: A dedicated device for early-stage breast cancer
Gamma Knife Radiosurgery: Leksell Gamma Knife Perfexion from Elekta, a dedicated intra-cranial SRS treatment Unit
GRID Radiation Therapy

Single-fraction high dose (10-20 Gy) delivered to bulky malignant tumor
GRID therapy with photon beam
GRID therapy with proton beam
Lattice radiation therapy (3D GRID)

Total Body Irradiation (TBI)

TBI treatment with translational couch
---
Dr. Karl L. Prado Endowment for Radiation Oncology Trainees
Help Fund the Next Generation of Cancer Treatment Specialists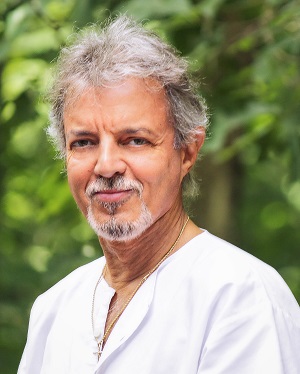 Karl L. Prado, PhD, FACR, FAAPM
1950–2018
Dr. Karl L. Prado served as a faculty member and invaluable medical physics educator to trainees and staff from 2009 to 2017 at the University of Maryland Department of Radiation Oncology. In 2019, the department renamed the Dr. Karl Prado Physics and Radiobiology Review Course to honor the memory of Dr. Karl Prado and recognize his unmatched teaching abilities.
The Dr. Prado endowment helps support our educational mission by funding trainees, medical and physics residents, fellows, radiation therapists, dosimetrists, nurses, and medical students for a number of initiatives including attendance at research conferences, educational events, training, wellness activities, and elective rotations.
Your support of the Dr. Karl L. Prado Endowment for Radiation Oncology captures your dedication to all facets of training and continuing education which enables our trainees to help save lives through their work.
Give to the Dr. Karl L. Prado Endowment for Radiation Oncology Trainees