Education and Training
M.S. : Safarik's University, Kosice Slovakia
Ph.D. : Institute of Molecular Physiology and Genetics, Slovak Academy of Sciences.
Post-doctoral studies : Experimental Brain Research Lab, Lund University Hospital, Sweden.
Senior Research scientist : Center for the Study of Neurological Disease, The Queens Medical Center, Honolulu, Hawaii.
Associate Professor of Anesthesiology University of Maryland Baltimore
Research/Clinical Keywords
neurodegeneartion, mitochondrial dynamics, bioenergetics, transgenic models, NAD catabolism
Highlighted Publications
Onken M, Berger S, Kristian T. Simple Model of Forebrain Ischemia in Mouse. Journal of Neuroscience Methods. 2012 204:254-61.
Owens K, Park JH, Gourley S, Jones H, Kristian T (2015) Mitochondrial Dynamics: Cell-type and hippocampal region specific changes following global cerebral ischemia. J of Bioenergetics and Biomembranes, 47(1-2):13-31.
Long AN, Owens K, Schlappal AE, Kristian T, Fishman PS, Schuh RA (2015) Effect of nicotinamide mononucleotide on brain mitochondrial respiratory deficits in an Alzheimer's disease-relevant murine model, BMC Neurol. 2015 Mar 1;15:19.
Ji H Park JH, Long A, Owens K, Kristian T. Nicotinamide mononucleotide inhibits post-ischemic NAD+ degradation and dramatically ameliorates brain damage following global cerebral ischemia. Neurobiol Dis. 2016 Jul 15; 95:102-110.
Long A, Park JH, Klimova N, Fowler CB, Loane DJ, Kristian T. CD38 Knockout Mice Show Significant Protection Against Ischemic Brain Damage Despite High Level Poly-ADP-Ribosylation. Neurochem Res. 2016 Aug 12.
Additional Publication Citations
Chandrasekaran K, Hazelton JL, Wang Y, Fiskum G, Kristian T (2006) Neuron-specific conditional expression of a mitochondrially-targeted fluorescent protein in mice. J Neuroscience, 26:13123-13127.
Kristian T, Balan I, Schuh R, Onken M. Mitochondrial dysfunction and NAD+ catabolism as mechanisms of cell death and promising targets for neuroprotection. J Neurosci Res 2011 89:1946-55.
My research is focused on the fundamental mechanisms of acute brain injury and chronic neurodegenerative disorders. Our studies are centered on processes leading to mitochondrial dysfunction and mechanisms of NAD+ catabolism-related pathophysiology.
We generated transgenic animals expressing mitochondria targeted yellow fluorescent protein (eYFP) that allows identification of cell-type specific mitochondria in brain. These mice are used to examine the effect of acute brain injury on neuronal and non-neuronal mitochondria.
We are testing a neuroprotective effect of compounds that feed into the NAD+ salvage pathway, as well as inhibit the enzymes responsible for NAD+ degradation. Furthermore, we are using molecular techniques to study the role of metabolites that are generated downstream of NAD+ catabolism in mechanisms of mitochondrial dysfunction following ischemic insult.
Brain Ischemia Induced Fragmentation of Neuronal Mitochondria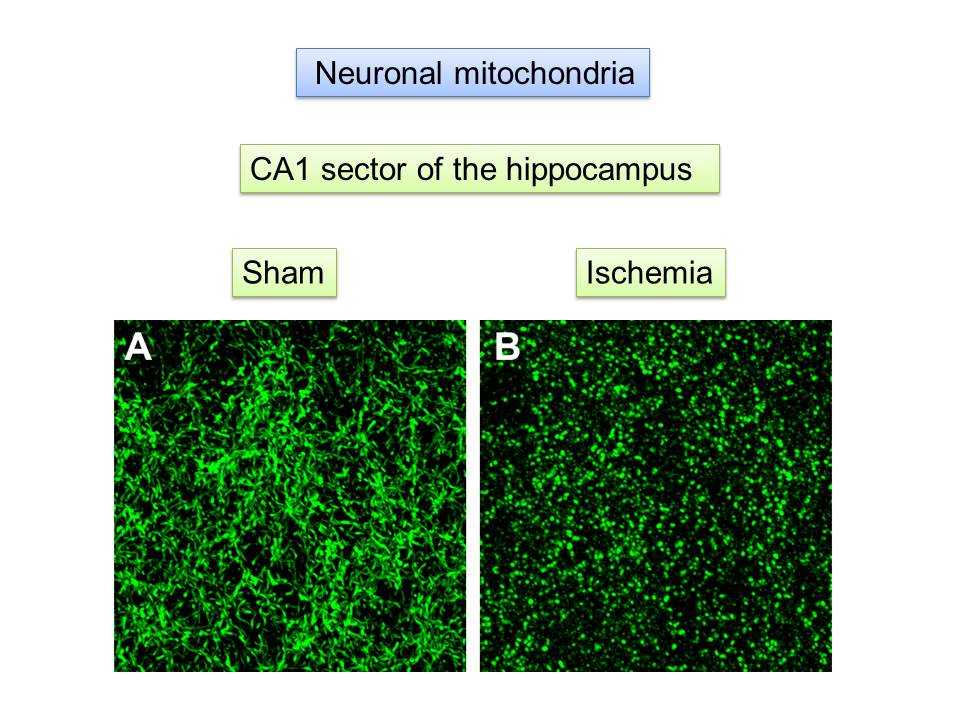 Research in our lab is suported by VA Merit Review Award:" Nudix hydrolases and mitochondrial dynamics in acute neurodegenerative disease ".