University of Maryland School of Dentistry
Secondary Appointment(s):
Microbiology and Immunology
701 E Pratt Street, Baltimore, MD 21202
Education and Training
PhD, 2006 Institute for Medical Microbiology, Justus-Liebig University (JLU), Giessen, Germany
MS, 2001 Department of Bio-physics & Molecular Biology, University College of Science & Technology, Kolkata, India
BS, 1999 Department of Zoology, Dinabandhu Andrews College, Kolkata, India
Biosketch
Dr. Chatterjee received his master's degree from the Department of Biophysics and Molecular Biology, University of Kolkata (Calcutta), India. He then went on to perform his doctoral studies in the laboratory of Dr. Trinad Chakraborty in Justus-Liebig University, Germany where he studied the infection process of Listeria monocytogenes, an intracellular pathogen that is responsible for causing food-borne illnesses.
After completing his PhD, he joined Dr. Michael Otto's group at the National Institutes of Health (NIH) to study the secretion process of a group of cytolytic peptide toxins called Phenol Soluble Modulins (PSMs) in S. aureus. In 2014, Dr. Chatterjee joined Dr. Henry Chambers' group at University of California, San Francisco (UCSF) to study the major public health problem of antimicrobial resistance in S. aureus. In 2015, he became an Assistant Adjunct Professor at UCSF.
In January of 2019, Dr. Chatterjee joined the faculty at the University of Maryland, Baltimore. He is a member of the UMB School of Dentistry Department of Microbial Pathogenesis. He is currently based at the Institute of Marine and Environmental Technology (IMET), where he continues to investigate antimicrobial resistance in S. aureus. Research in the Chatterjee lab is funded through grants from the National Institutes of Health (R01 and R21) and through University Systems of Maryland (seed funding).
Research/Clinical Keywords
Highlighted Publications
Basuino L, Jousselin A, Alexander JAN, Strynadka NCJ, Pinho MG, Chambers HF, Chatterjee SS. 2018. PBP4 activity and its overexpression are necessary for PBP4-mediated high-level beta-lactam resistance. J Antimicrob Chemother doi:10.1093/jac/dkx531.
Chatterjee SS, Chen L, Gilbert A, da Costa TM, Nair V, Datta SK, Kreiswirth BN, Chambers HF. 2017. PBP4 mediates β-lactam resistance by altered function. Antimicrob Agents Chemother doi: 10.1128/AAC.00932-17.
Greninger AL, Chatterjee SS, Chan LC, Hamilton SM, Chambers HF, Chiu CY. 2016. Whole-Genome Sequencing of Methicillin-Resistant Staphylococcus aureus Resistant to Fifth-Generation Cephalosporins Reveals Potential Non-mecA Mechanisms of Resistance. PLoS One 11:e0149541.
Alexander JAN, Chatterjee SS, Hamilton SM, Eltis LD, Chambers HF, Strynadka NCJ. Structural and kinetic analyses of penicillin-binding protein 4 (PBP4)-mediated antibiotic resistance in Staphylococcus aureus. J Biol Chem. 2018 Dec 21;293(51):19854-19865. doi: 10.1074/jbc.RA118.004952.
da Costa TM, de Oliveira CR, Chambers HF, Chatterjee SS. PBP4: A New Perspective on Staphylococcus aureus β-Lactam Resistance. Microorganisms. 2018 Jun 22;6(3). doi: 10.3390/microorganisms6030057.
Our laboratory is interested in understanding the fundamental biological principles that lead to Staphylococcus aureus infections, an important human bacterial pathogen that is responsible for causing high morbidity and mortality worldwide. During the course of the past 4-5 years, our research has identified several interesting and novel pathways that are involved in beta-lactam resistance in S. aureus. Beta-lactam drugs remain as one of the gold standards of treatment for bacterial infections due to their superior efficacy and safety over other drugs. Widespread resistance in bacteria however limits its use. Studying novel pathways will decipher their role/s in the beta-lactam resistance process. Moreover, our work will elucidate various unknown aspects of basic biology, such as bacterial cell signaling, gene regulation and protein-protein interactions, which are crucial for bacterial resistance.
We are always looking for motivated and collegial candidates for the lab. If you are interested in our research questions please contact schatterjee@umaryland.edu with your CV and a statement explaining why you would like to work in our group.
Current Research Foci:
Decipher the biological basis for pathogenic of S. aureus using a wide variety of molecular biology, genomic, biochemical, and immunological approaches.
Study beta-lactam drug resistant phenotypes and genotypes through proteomics and genomics.
Explore non-canonical (novel) targets responsible for beta-lactam resistance in S. aureus to re-sensitize resistant bacteria to beta-lactam drugs.
Explore novel approaches, such as developing nano-bodies, to treat staphylococcal infections.
2019: Chatterjee lab featured in IMET annual report for contribution to the Environmental, Animal, and Human Health research area
2019: Poster at the Mass Spectrometry in Biotechnology and Medicine, Dubrovnik, Croatia was selected as one of the top ten scored posters
2013: Work on the PSM transporter was featured in NIH news
2007: ASM Student Travel Grant Award for 107th General Meeting at Toronto, Canada
2006: Ph.D. thesis was assessed with distinction
2006: Article titled "The intracellular gene expression profile of Listeria monocytogenes", was selected for journal highlights in Microbe, March 2006 (formerly ASM News)
2003: Earned a PhD fellowship in Germany by successfully completing the international graduate program in "Molecular Biology and Medicine of the Lung" (2002: Qualified for national PhD fellowship program in life sciences conducted by Government of India (CSIR NET)
2001: Awarded junior research scholarship, Bose Institute, Kolkata, India
2001: Received 1st class in Master's
2001: Qualified for national lectureship program in life sciences conducted by Government of India
1999: Received 1st class in Bachelor's
R01AI100291 (NIH/NIAID) Chatterjee/Chambers (PI) 01/2018 - 12/2022
Novel Mechanisms of Beta-lactam Resistance in Staph aureus
This proposal will determine novel mechanisms of -lactam resistance with the ultimate goal of identifying new
therapeutic approaches, better antibiotic targets, and better antibiotics to overcome resistance.
Role: PI
R21AI142501 (NIH/NIAID) Chatterjee (PI) 03/2019 – 02/2021
Novel mechanism of mecA expression in Staphylococcus aureus
Som Chatterjee (CV) Page 5 of 9
We identified a novel serine-threonine kinase signaling pathway that controls β-lactam resistance in
Staphylococcus aureus. β-lactams are important drugs for treating S. aureus infections, but resistance to these
drugs often complicates treatment. In this proposal, we seek to identify the mechanistic basis of this novel mode
of β-lactam resistance.
Role: PI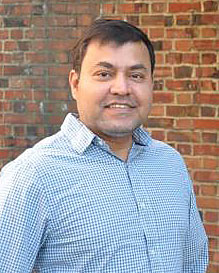 Principal Investigator:
Som Chatterjee, PhD
schatterjee@umaryland.edu
Lab Members:
Breanna Shirtliff
bshirtliff@umaryland.edu
Li-Yin Lai
llai@umaryland.edu
Nidhi Satishkumar
nidhi.satishkumar@umaryland.edu
Nagaraja Mukkayyan
nmukkayyan@umaryland.edu
Raymond Poon
rpoon1@umaryland.edu
Photo Gallery: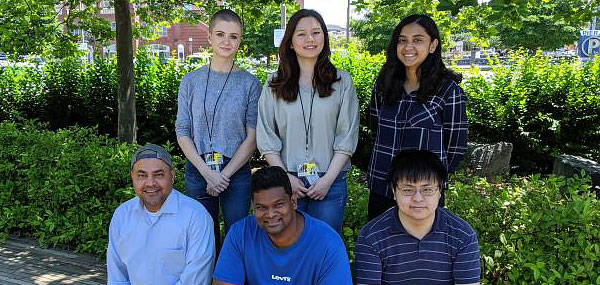 Chatterjee Lab, 2021 (Top from left: Breanna Shirtliff, Li-Yin Lai, Nidhi Satishkumar;
Bottom from left: Som Chatterjee, Nagaraja Mukkayyan, Raymond Poon)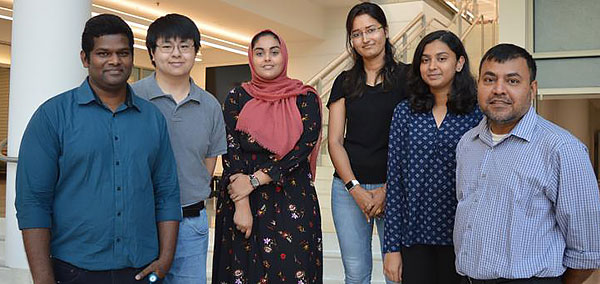 Chatterjee Lab, 2019 (From Left: Nagaraja Mukkayyan, Raymond Poon, Zahra Zubair-Nazami,
Aditi Chatterjee, Nidhi Satishkumar, Som Chatterjee)
To learn more about the Chatterjee Laboratory, please visit https://imet.usmd.edu/chatterjee