University Eye Care
Consultations for Providers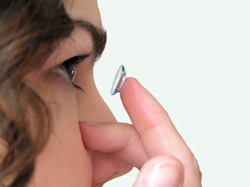 University Eye Care is a group of board certified ophthalmologists, optometrists and vision scientists who are all faculty members of the University of Maryland School of Medicine. Our research and professional experiences provide a unique, internationally recognized center of excellence in eye and vision care.
As a regional referral and consultation facility, we can provide your patients with the highest quality clinical care along with access to cutting edge research protocols. This specialty care, along with outstanding primary eye care, is provided in a compassionate, patient-oriented environment.
We offer seamless co-management of your patient; prompt follow-up is our standard procedure. Your patients will return to your practice with a detailed report in a timely manner. Our faculty is readily accessible for telephone or telecommunication consultation.
As a community-based practice, we encourage physicians to participate in our weekly Grand Rounds both as audience and as case presenters.
University Eye Care is continually developing and implementing new and better services to provide the latest and best medical benefits to your patients. These include:
innovative medical and surgical disease management
encompassing the latest in angiography and electrodiagnostics
behavioral and optical management techniques such as vision rehabilitation for visually-impaired patients and specialty contact lenses for keratoconic patients
Please visit our website at the University of Maryland Medical Center for more information on referrals and treatment options.
Locations
University of Maryland Professional Building
419 West Redwood Street
Suite 420
Baltimore, MD 21201
Ph: 667-214-1111
Fax: 410-328-6503
McDonogh Crossroads
20 Crossroads Drive
Suite 113
Owings Mills, MD 21117
Ph: 667-214-1111
Fax: 410-363-8047
Waterloo
5900 Waterloo Road
Columbia, MD 21045
Ph: 667-214-1111
fax: 410-328-6503
Midtown
800 Linden Avenue
7th Floor
Baltimore, MD 21201
Ph: 667-214-1111
fax: 410-328-6503