The Mary Gray Cobey Professorship in Neonatology
November 1, 2022
The Investiture Ceremony awarding Dina El-Metwally, MD PhD, The Mary Gray Cobey Professorship in Neonatology was held on Tuesday, November 1, 2022.
---
Investiture Ceremony Program
---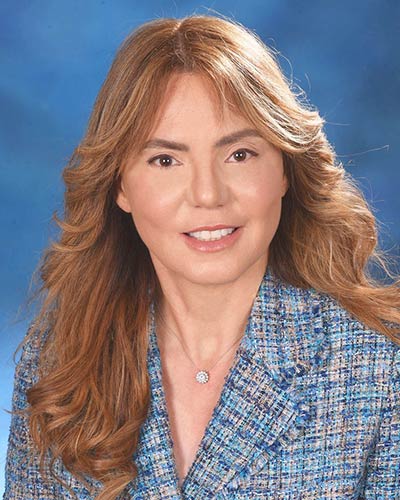 About Dr. El-Metwally
Dr. El-Metwally led the project of the new Neonatal Intensive Care Unit (NICU) at the Children's Hospital at University of Maryland Medical Center. The Drs. Rouben and Violet JiJi NICU is a 30 million-dollar, state of art and a cutting-edge technology; 52 single-family-room unit established on 37.6,000 sq. foot that was launched in 2015.
Dr. El Metwally also pursued a parallel career in medical education; she obtained Masters in Health Professions Education from Maastricht University, Faculty of Health, Medicine and Life Sciences (FHML), Netherlands; jointly with FOMSCU in 2005. Presently, she is the planner for the Program Evaluation module in the Master's program. She worked with the World Health Organization (WHO) as a S-T consultant in Program Evaluation and Health-manpower Development S-T consultant. As well as other global organizations as the Higher Education Enhancement Projects HEEP funds/European Tempus, Nuffic-MUNDO-Capacity building at the Schools of Health Sciences, the Netherlands. Dr. El-Metwally was the founding Director of a Neonatology Fellowship Program at the KFAFH, Jeddah in 2008. She also, completed a fellowship in Medical Education at the Foundation for Advancement of International Medical Education and Research (FAIMER) Institute, ECFMG, Philadelphia, (FAIMER) in 2012.
Dr. El-Metwally received multiple awards and recognitions: Sheila Wallace Award by the International Child Neurology Association. Canada. 2006. Excellence in Education Award, JMHPW, Maastricht University/FOMSCU. 2011. Excellence in Teaching Award. Neonatal-perinatal Fellowship Program 2020. She has been named and featured in Baltimore Magazine. Top Doctors in 2016, 2017, 2019, 2020. Dr. El-Metwally was the first medical provider featured in JAMA for the efforts concerted by the NICU at UMSOM for withdrawing babies.
Photo Gallery