Residency Program
Training Future OBGYN Doctors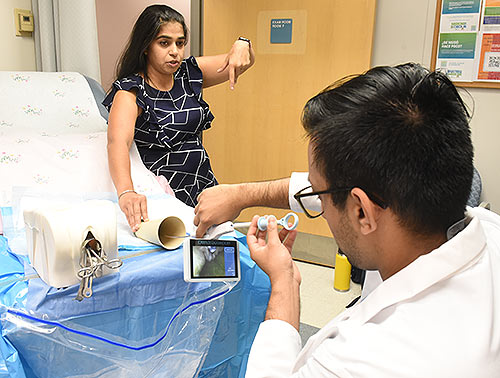 The University of Maryland School of Medicine Department of Obstetrics, Gynecology and Reproductive Sciences Residency program strives to provide a rigorous educational and clinical experience for future healthcare leaders. We seek applicants who have diverse backgrounds and experiences and bring with them an enthusiasm for learning. Our program is designed to provide each applicant an opportunity to explore various career options while providing a supportive, educational experience at the same time.
Our 4 Year program includes clinical, research and educational learning opportunities and is fully accredited by the Academic Council for Graduate Medical Education (AGCME) and the Residency Review Committee(RRC). The majority of training is at the University of Maryland Medical Center with additional training at Mercy Medical Center and Baltimore Washington Medical Center.
Subspecialities
Through rotations, our residents will learn basic OBGYN care as well as be trained in subspecialities such as:
General Medicine
Genetics
Gynecological Oncology
Infertility
Maternal Fetal Medicine
Obstetrics Anesthesia
Reproductive Endocrinology
Ultrasonography
Urogynecology
For More Information
To learn more about the University of Maryland Baltimore School of Medicine Residency program, click on the link below or contact Tracie Jones at 410-328-5959 or tracie.jones@som.umaryland.edu .
University of Maryland Medical Center's OB/GYN Residency
---
OB/GYN Resident Training
INTERNS - PGY-1
OB days
OB night float
Benign Gyn
Gyn Oncology
Ultrasound
OB Anesthesia
JUNIOR RESIDENTS - PGY-2
OB days
OB night float
Benign Gyn
REI
Gyn Oncology
Ultrasound.Genetics
Breast disease
Family Planning
SENIOR RESIDENTS - PGY-3
OB days (Antepartum)
OB days
Benign Gyn
OB night float
Family Planning
Gyn sub-specialty clinics, including Urogyn and Imaging
Gyn Oncology
Elective
CHIEF RESIDENTS - PGY-4
OB days
Benign Gyn
OB night float
Gyn Oncology
Clinic Chief
Gyn / Float