Medical Students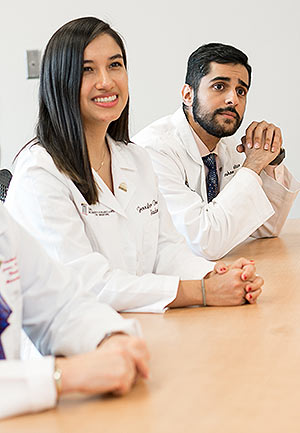 The department provides a learning experience that encourages each student, regardless of ultimate career choice, to develop professional attitudes, diagnostic skills and knowledge relevant to the human female and to her sexual and reproductive systems. This experience enables each student to assume more effective responsibility for the general delivery of health care to the adolescent, adult and aging female and to the newborn.
The student is taught to recognize those patients who require special gynecologic consultation. Health-related reproductive and social issues such as family planning and sexually transmitted diseases are discussed as well as other aspects of population control, sexual difficulties, sterilization, and induced abortion.
The educational material is presented to familiarize students with all sources of knowledge relevant to these subject areas. Students may extend their knowledge and skills in a direction and depth appropriate to current and ultimate career goals. Students are also encouraged to take electives in basic, clinical and social research.
The service roles focus on the general areas of obstetrical and gynecologic care. Obstetrics deals with a high-risk pregnancy population and provides excellent educational opportunities for both students and residents. Specialty clinics in endocrinology, complicated pregnancy, cancer, pre and post operative evaluation, and family planning provide specific, specialized areas of instruction in addition to serving large numbers of patients. Cancer detection and therapy play a major part in the gynecologic program.
The department utilizes audiovisual aids to enhance the educational experience of both medical students and residents. The faculty also contributes to the postgraduate educational programs at the University of Maryland Medical System and throughout the state.
Undergraduate Medical Program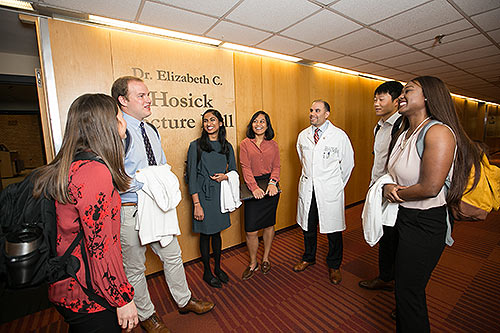 The Department of Obstetrics and Gynecology faculty teaches in the first-year Cell and Molecular Biology and Functional Systems blocks, and in the second-year Pathophysiology/Therapeutics block.
Third Year
OBST. 530: Clinical Clerkship. Students are assigned to obstetrics and gynecology for a period of six weeks. As clinical clerks, they participate in the original diagnostic studies, pelvic exam, surgical procedures and postoperative care of hospitalized patients. Instruction in prenatal and gynecologic outpatient care is accomplished in our community clinics. Seminars and departmental conferences with the attending staff and house officers are employed for teaching the art of correlating observations, diagnosis and therapy. Frequent and close contact with faculty is achieved by means of a preceptorial system that assigns a group of three to four students to a member of the faculty for the entire clerkship. As an alternative to the clerkship at the University of Maryland Medical System, a similar instructional program is offered to a limited number of students by the obstetrics and gynecology departments at Mercy Medical Center and Franklin Square Hospital. (Staff)
Fourth Year
OBST. 541: Obstetrics and Gynecology Elective. The student may choose to spend a four-week elective in one of five subspecialty areas: high-risk obstetrics, endocrinology, oncology, ambulatory OB/GYN, and gynecology. (Staff)
Affiliated Hospital Electives: Electives are available at Mercy Medical Center.
Several additional electives are listed with the Office of Student Affairs Electives Catalog.