2020 Annual Report
Dearest members of the School of Medicine community,
On the first anniversary of the establishment of Women in Medicine and Science, we would like to take this opportunity to thank the entire School of Medicine community for their enormous support of WIMS. In this time of great uncertainty, we would like to reflect on the achievements of our first year.
We had an exciting year of programming to kick off WIMS. Rajshree Agarwal PhD, Chair of Entrepreneurship at the Robert H. Smith School of Business, presented us with a three part series on developing your personal brand and leadership implementation plan. If you missed the events, you can watch the videos at the WIMS website. We held the first annual Women's Promotion Ceremony in September to celebrate the achievements of the women in our community. Please join us on September 17, 2020 at 4pm for the second year of this event—stay tuned for more information.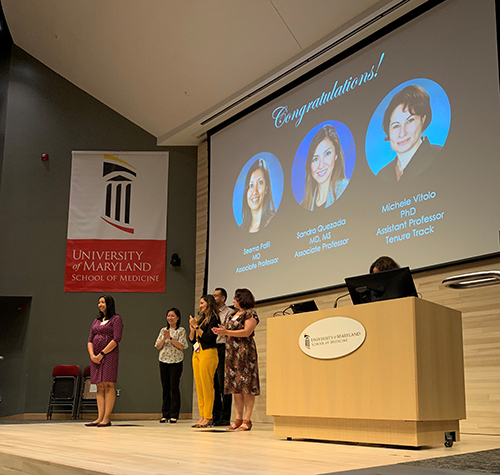 We are pleased to announce the first WIMS scholarship opportunity for 2020. The Carey School of Business has graciously granted WIMS an opportunity to send in the Academy for Healthcare Leadership and Management. This incredible opportunity will allow participants to focus on leadership skills in a diverse cohort of healthcare professionals, and to work with an executive coach to build their own leadership skills. Keep an eye out for the scholarship announcement in the upcoming months.
Our three working groups (Diversity, Wellness & Work Life Balance, and Mentorship) have formed robust networks that are working tirelessly to identify and solve issues that women face at UMSOM. All faculty are welcome to join a WIMS working group. Our Diversity workgroup has created a tremendous compendium of diversity resources on our website. The Wellness and Work Life Balance workgroup is tackling the barriers faced by nursing mothers through creation of a UMSOM lactation map. The Mentorship workgroup has created a mentorship toolbox resource for the entire school. Although the format had to be converted to virtual due to COVID-19, the first inaugural Meet the Professor Promotion Workshop brought senior and junior faculty together to create a roadmap for professional success.
An organization is only strong if it is fed by new ideas and new energy. We want to continue to have representation from all corners of our institution. This year, we will be electing two new faculty representatives to the Executive Council. Additionally, the position of Vice President for Research Faculty will also be on the annual ballot, as we would like to congratulate our outgoing VP Erin Hegar PhD on her elevation to Director of the Program in Health Disparities and Population Health. Please consider running for one of our three open seats on the Executive Council in the upcoming election.
Maryland and the world at large face significant challenges in the COVID era. COVID-19 is having a disparate impact on women through unprecedented challenges in balancing work and family. Gender equity must continue to be one of our guiding principles as we navigate these uncharted waters. We continue to work closely with the School of Medicine and the University of Maryland Baltimore leadership to further our mission of programming, resources, and advocacy for women at UMSOM as we embark on our second year.
Wishing you well for the upcoming year,
The WIMS Executive Council
Kimberly M. Lumpkins MD MBA FACS FRCS(Eng)
Associate Professor of Surgery
Division of Pediatric Surgery & Urology
University of Maryland School of Medicine