The Eastern Shore Mobile Care Collaborative at the Caroline County Health Department
Our Mission
The Eastern Shore Mobile Care Collaborative (ESMCC) at Caroline County Health Department is a Mobile Treatment Unit that aims to increase access to care by providing Medication Assisted Treatment (MAT) for individuals with Opioid Use Disorders (OUD) in underserved rural communities in order to maximize access to life-saving treatment and develop a model of care that can be adopted by other underserved rural areas with similar needs.
---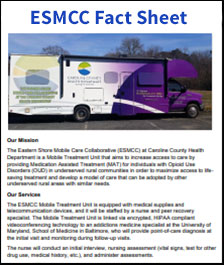 Our Services
The ESMCC Mobile Treatment Unit is equipped with medical supplies and telecommunication devices, and staffed by a nurse and peer recovery specialist. The Mobile Treatment Unit is linked via encrypted, HIPAA compliant videoconferencing technology to an addictions medicine specialist at the University of Maryland, School of Medicine in Baltimore who will provide point-of-care diagnosis at the initial visit and monitoring during follow-up visits.
The nurse will conduct an initial interview, nursing assessment (vital signs, test for other drug use, medical history, etc.), and administer assessments.
Phone: 410-479-1882
Website URL: www.easternshoremobilecare.org
Mobile Assessments
On-site psychiatric evaluation and treatment.
Tele-Video Assessments
Remote assessment of patients utilizing a secure, inter-active video conferencing platform via a computer to determine and direct patients to the most appropriate level of care.
Tele-Psychiatry Consultation & Liaison Services
Utilizing a secure, inter-active video conferencing platform via computer, our psychiatrist and licensed nurse can assess and diagnose patients, collaborate with treating physicians on recommended therapeutic and medication interventions, and deliver consultation and outreach services to underserved, rural areas.
Psychiatric evaluation and treatment
Clinical assessment
Crisis intervention
Medication management/monitoring
Health promotion and training