Student Researchers Receive Monetary Awards for Winning Presentations
On November 16, 2022, the University of Maryland School of Medicine (UMSOM) held its 45th annual Medical Student Research Day (MSRD) at the SMC Campus Center. MSRD is a proud tradition for University of Maryland's medical students to present their research accomplishments to the school and the campus. The presentations are judged by UMSOM faculty, and competitive prizes are awarded in recognition of the exemplary research and presentations. Sponsored for decades by the Alpha Omega Alpha (AOA) Honor Society and the Office of Student Research (OSR) in the Dean's Office, this year's event was especially significant because it marked the return of hosting the event in person. For the past two years, the event was held via Zoom due to the Covid-19 pandemic.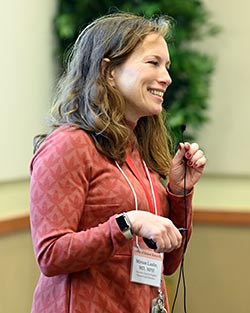 The afternoon began with a few opening remarks by Gregory B. Carey, PhD, Associate Professor of Microbiology and Immunology and Assistant Dean for Student Research and Education at UMSOM, and Miriam K. Laufer, MD, MPH, Professor of Pediatrics, Associate Dean for Student Research and Education, and Director of the Office of Student Research at UMSOM.
"I am hoping that today is the start of having great interaction now that we are back on campus," said Dr. Laufer. "Thank you for the enthusiasm as we make today as great as we know it can be."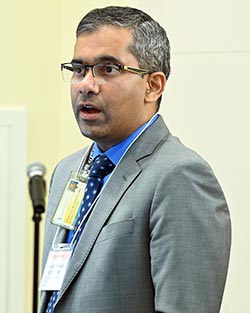 Following these remarks, keynote speaker Pranshu Mohindra, MD, MBBS, Associate Professor of Radiation Oncology at UMSOM, and Associate Medical Director of Radiation Oncology at the University of Maryland Medical Center (UMMC), directly addressed the group of student presenters: "Today reflects all the good work you have done. But what comes next?" he asked. With a profound sense of optimism he advised, "Keep moving your specialty forward to improve the quality of medical care for your patients."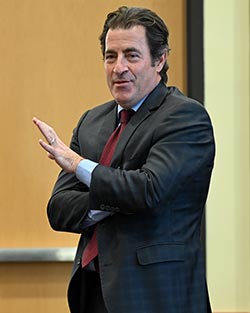 UMSOM Dean Mark T. Gladwin, MD, who is also the Vice President for Medical Affairs, University of Maryland, Baltimore, and the John Z. and Akiko K. Bowers Distinguished Professor, made a guest appearance and spoke about the importance of fostering the next generation of physician-scientists. "To be a physician, you must be a scientist. You must be able to speak both languages. A deep knowledge of science is needed to practice medicine," he said. "If you commit to being a physician-scientist, you are committing to being a critical thinker."
A group of 86 participating medical students in their 2nd, 3rd, and 4th study years (MS2-MS4) presented their research accomplishments to their fellow peers and UMSOM faculty judges. Student presenters were judged on three criteria: overall presentation quality, science, and communication.
One student was selected as an award recipient from each of the ten sessions designated for oral presentations. Second-year medical student Andres Chavez-Barragan, who was a first-place winner for his oral presentation on anti-NMDA receptor-associated encephalitis, was grateful for the opportunity MSRD has afforded him to learn directly from his mentor. "I have had a fantastic opportunity to directly learn from my Principal Investigator and to take on more investigative responsibility than I have in the past," said Chavez-Barragan about his mentor, David R. Benavides, MD, PhD, Assistant Professor of Neurology at UMSOM. "Dr. Benavides has become a mentor for me in many ways, and I attribute this to the time I have spent directly learning and working alongside him this summer."
From the two sessions designated for poster presentations, a total of five students were selected as award recipients. Second-year medical student Sarah Flaherty won third place for her poster presentation on trends in medical student scholarly productivity before and after implementing the Foundations of Research and Critical Thinking (FRCT) course. "I worked closely with people who are passionate about medical student research. So, presenting my results at MSRD felt like the obvious thing to do," said Flaherty. "I am glad to be part of a research community that supports students with opportunities like MSRD."
The event concluded with an awards dinner reception where a total of 15 students received awards with monetary prizes for their outstanding presentations and research. Ten faculty members, each nominated by their student mentees, received recognition for their time and dedication to their students throughout the research process.
The OSR inspires the scientific curiosity of students by providing research education and research programming for UMSOM medical students, as well as by promoting student research productivity, providing individualized research advising, and overseeing the MD/Masters dual-degree programs. For more information on how to engage in OSR activities, please complete the OSR Engagement Interest Form.
Congratulations to all 2022 student and faculty mentor award recipients!
45th Annual Medical Student Research Day
2022 Student Presentation Award Recipients
First Place:

First Place:

First Place:

First Place:

First Place:

First Place:

First Place:

Oral Presentation Session I

Claire Macatee, MS II

Oral Presentation Session II

O. Insun Yoon, MS II

Oral Presentation Session III

Radhika Gholap, MS II

Oral Presentation Session IV

Urjita Das, MS II

Oral Presentation Session V

Andres Chavez-Barragan, MS II

Oral Presentation Session VI

William Kelley, MS II

Oral Presentation Session VII

Maria Som, MS II

First Place:

First Place:

First Place:

First Place:

Second Place:

First Place:

Second Place:

Third Place:

Oral Presentation Session VIII

Eyerusalem Workneh, MS II

Oral Presentation Session IX

Pharibe Pope, MS II

Oral Presentation Session X

Seray Er, MS II

Poster Presentation Session I

Donald De Alwis, MS II

Poster Presentation Session I

Alanna Stefano, MS II

Poster Presentation Session II

Jacob Cuevas, MS II

Poster Presentation Session II

Guido Massaccesi, MS II

Poster Presentation Session II

Sarah Flaherty, MS II
45th Annual Medical Student Research Day
2022 Faculty Mentor Recognition Award Recipients
Recipient:

Recognized for:

Nominated by:

Recipient:

Recognized for:

Nominated by:

Recipient:

Recognized for:

Nominated by:

Recipient:

Recognized for:

Nominated by:

Recipient:

Recognized for:

Nominated by:

Transformational Impact

Bhakti Panchal, MSII

Amal Isaiah
Matthew Laurens

Productivity Impact

Audrey Zauher, MSII

Productivity Impact

Alexander Laurenson, MSII

Moran Roni Levin
Khanjan Nagarsheth

Transformational Impact

Susanna Yau, MSII

Productivity Impact

Luke Pitsenbarger, MSIII; Natalie Chao, MSII; Allison Karwoski, MSII; Maria Som, MSII; & Eyerusalem Workneh, MSII

Recipient:

Recognized for:

Nominated by:

Recipient:

Recognized for:

Nominated by:

Recipient:

Recognized for:

Nominated by:

Recipient:

Recognized for:

Nominated by:

Recipient:

Recognized for:

Nominated by:

Transformational Impact

Emma Lawrence, MSII

Alexander Ksendzovsky
Jessica K. Lee

Productivity Impact

Darrian McAfee, MSII

Transformational Impact

Sanyukta Deshmukh, MSII

Andrea Meredith
Silke Niederhaus

Transformational Impact

Indira Jetton, MSII

Transformational Impact

Kaitlyn Freels, MSIII