Philanthropy
Help Fund the Future of Cancer Treatment
The Department of Radiation Oncology plays a critical, life-saving role for patients at the University of Maryland. Your financial support for enhancing academic, research, and clinical activities is essential to this program.
The Department of Radiation Oncology is one of the world's leading treatment, research, and training centers with the most advanced treatment modalities available. When you make your gift, you may choose to support any of the department's specific funding needs.
Your gift may support the following: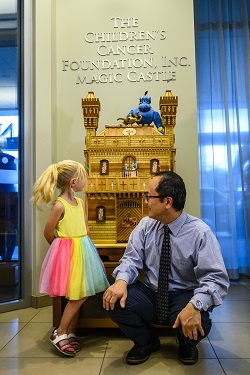 Funding for the Radiation Oncology Program of Excellence will allow our specialists to bring their cutting-edge innovations to the bedside where they may directly improve patient outcomes.
The Patient Assistance Fund provides a safety net for financially disadvantaged patients by providing assistance with expenses related to radiation treatment.
The Virtual Needs Pantry is used to assist patients experiencing financial difficulty with needs such as transportation, housing, and medications.
Gifts to the Magic Castle Fund provide special wishes to seriously ill pediatric patients.
Whether it's endowing a professorship to support world-class faculty and research, bringing leading experts to campus to share their knowledge, or in clinical care, your gift can be designated toward the area of greatest need in the department.
You may also recognize your physician with a gift that can go towards their individual work.
For more information about giving opportunities in the Department of Radiation Oncology, please contact Melissa Breslin at mbreslin1@umm.edu or 410-328-8450.
---
Dr. Karl L. Prado Endowment for Radiation Oncology Trainees
Karl L. Prado, PhD, FACR, FAAPM
1950–2018
Dr. Karl L. Prado served as a faculty member and invaluable medical physics educator to trainees and staff from 2009 to 2017 at the University of Maryland Department of Radiation Oncology. He dedicated himself to clinical program development and the advancement of new technologies and safety protocols in radiation oncology, so that every treatment could be tailored to the specific needs of each patient.
In 2018, the first-ever department Golden Apple Physics Educator of the Year Award was established, and Dr. Prado unanimously received the distinguished award from the department's medical and physics residents for his earnest contributions to their education. In 2019, the Physics and Radiobiology Review Course, which helps prepare medical residents for their biology and physics qualifying exams, was renamed to honor the memory and unmatched teaching abilities of Dr. Karl L. Prado.
This endowment was named for Dr. Prado to honor his remarkable influence. The Department of Radiation Oncology has invested $1 million and seeks to raise an additional $1 million. This fund advances education and training in radiation oncology for talented and compassionate healers and innovators who will aggressively pursue dramatic advances in radiation therapy.
The Dr. Prado endowment helps support our educational mission by funding the department's trainees, medical and physics residents, fellows, radiation therapists, dosimetrists, nurses, and medical students for a number of intiatives including:
Supporting social, physical and mental wellness activities.
Contributing to peer-reviewed publication fees, attendance at research conferences, and elective rotations.
Providing educational activities that support the careers of trainees to enhance their training and education for improved patient care.
Supporting annual University of Maryland Department of Radiation Oncology continuing educational events, including the Mock Orals Course for graduated medical residents, the "Best of Symposium" led by radiation oncology faculty, and the Dr. Karl L. Prado Physics and Radiobiology Review Course.
We save lives through our work. Your support of the Dr. Karl L. Prado Endowment for Radiation Oncology captures your dedication to all facets of training and continuing education to help others.
Give to the Dr. Karl L. Prado Endowment for Radiation Oncology Trainees