Director, Early Phase Clinical Trials - Department of Medicine
Education and Training
Education
1990 - 1996 M.D., University of Cordoba, School of Medicine, Argentina
2003 M.D., University of Catania School of Medicine, Italy (Medical Degree Validation)
2000 - 2003 Specialist in Medical Oncology, University of Milan, Italy
2006 - 2009 Ph.D. and Doctor Europaeus in Clinical Oncology and Experimental Research University of Palermo, Italy & European University Association Degree
2008 -2009 University Specialist in Management of Diseases, Polytechnic University of Valencia, Spain
2008 - 20009 MBA, Hospital and Health Services Management and Organization, Polytechnic University of Valencia, Spain
Post Graduate Education and Training
1999 - 1999 Internship, National Cancer Institute, Medical Oncology Department, Milan, Italy
2000 - 2003 Residency, Medical Oncology, National Cancer Institute, Medical Oncology Department, Milan, Italy
2013 Visiting Professor Department of Investigational Cancer Therapeutics, Division of Cancer Medicine, The University of Texas MD Anderson Cancer Center, Houston, TX, USA
Biosketch
Christian Rolfo, MD, PhD, MBA, Dr.hc. is professor in the Division of Hematology-Oncology at University of Maryland School of Medicinethe, Director of the Thoracic Medical Oncology and the Early Clinical Trials at the University of Maryland Marlene and Stewart Greenebaum Comprehensive Cancer Center (UMGCCC). He specializes in thoracic oncology, drug development and translational oncology.

Dr. Rolfo received his medical degree from the National University of Córdoba, Argentina in 1996, and University of Catania, Iatly in 2003. He completed his fellowship in Medical Oncology at University of Milan, Italy. He has earned certifications from the European Oncology Board and the Spanish and Belgian Board and spent an internship at MD Anderson Cancer Center in Houston.

From 2012 to March 2018, Dr. Rolfo was the Director of Phase I - Early Clinical Trials Unit and Director of the Clinical Trials Management Program. In addition senior staff for the Thoracic Oncology Cluster at the Antwerp University Hospital in Belgium. In addition of Professor of the same University.
Dr. Rolfo actively works on drug development and resistance in lung cancer and mesothelioma treatment. His focus of research are liquid biopsies (exosomes and ctDNA) and molecular profiling, he is involved in druggable biomarkers research and immunotherapy in thoracic cancer.

Dr. Rolfo is the Deputy Chair of the Educational Committee of the International Association for the Study of Lung Cancer (IASLC), Vice President of The International Society of Liquid Biopsy (ISLB),Member of the Scientific Committee of the European School of Oncology (ESO). He served as Membership Committee of European Society of MedicaOncology (ESMO) . He is a member of the American Society of Clinical Oncology (ASCO) the American Association of Cancer Research (AACR) and other societies.

His work has been published in "New England Journal of Medicine," "Lancet Oncology," "Nature Nanotechnology," "Cancer Discovery" "Journal of Thoracic Oncology" "Nature Rev Clin Oncology" among other journals. Read Dr. Rolfo's publications on PubMed. Speaking engagements include global forums on lung cancer and drug development.
Languages spoken:
English, Italian, Spanish, Dutch, Catalan, Portuguese
Research/Clinical Keywords
His special interests include: •Thoracic Malignancies Treatment (Lung Cancer, Pleural Mesothelioma and Thymoma) •Drug Development •Early Clinical Trials •Molecular Oncology •Immunotherapy •Liquid biopsies
Highlighted Publications
1- Rafael Rosell, Teresa Moran, Cristina Queralt, Rut Porta, Felipe Cardenal, Carlos Camps, Margarita Majem, Guillermo Lopez-Vivanco, Dolores Isla, Mariano Provencio, Amelia Insa, Bartomeu Massuti, Jose Luis Gonzalez-Larriba, Luis Paz-Ares, Isabel Bover, Rosario Garcia-Campelo, Miguel Angel Moreno, Silvia Catot, Christian Rolfo, Noemi Reguart, Ramon Palmero, José Miguel Sánchez, Roman Bastus, Clara Mayo, Jordi Bertran-Alamillo, Miguel Angel Molina, Jose Javier Sanchez, Miquel Taron, for the Spanish Lung Cancer Group. Screening for Epidermal Growth Factor Receptor Mutations in Lung Cancer New England Journal of Medicine, NEJM Volume 361: Number 10. September 3, 2009
2-Rafael Rosell; Enric Carcereny; Radj Gervais; Alain Vergnenegre; Bartomeu Massuti;Enriqueta Felip; Ramon Palmero; Ramon Garcia-Gomez; Cinta Pallares; Jose Miguel Sanchez; RutPorta; Manuel Cobo; Pilar Garrido; Flavia Longo; Teresa Moran; Amelia Insa; Filippo De Marinis;Romain Corre; Isabel Bover; Alfonso Illiano; Eric Dansin; Javier de Castro; Michele Milella; Noemi Reguart; Giuseppe Altavilla; Ulpiano Jimenez; Mariano Provencio; Miguel Angel Moreno; JosefaTerrassa; Jose Muñoz-Langa; Javier Valdivia; Dolores Isla; Manuel Domine; Olivier Molinier; JulienMazieres; Nathalie Baize; Rosario Garcia Campelo; Gilles Robinet; Delvys Rodriguez; Guillermo Lopez-Vivanco; Vittorio Gebbia; Lioba Ferrera Delgado; Pierre Bombaron; Reyes Bernabe; Alessandra Bearz; Angel Artal; Enrico Cortesi; Christian Rolfo; Maria Sanchez Ronco; Ana Drozdowskyj; Cristina Queralt;Itziar de Aguirre; Jose Luis Ramirez; Jose Javier Sanchez; Miguel Angel Molina; Miquel Taron; Luis Paz-AresThe EURTAC study of erlotinib versus chemotherapy in European EGFR- mutant non-small-cell lung cancer patients. Lancet Oncol. 2012 Mar;13(3):239-46. Epub 2012 Jan 26
3- Rolfo C, Mack PC, Scagliotti GV, Baas P, Barlesi F, Bivona TG, Herbst RS, Mok TS,Peled N, Pirker R, Raez LE, Reck M, Riess JW, Sequist LV, Shepherd FA, Sholl LM, Tan DS, Wakelee HA, Wistuba II, Wynes MW, Carbone DP, Hirsch FR, Gandara DR. IASLC Statement Paper: Liquid Biopsy for Advanced Non-Small Cell Lung Cancer (NSCLC). J Thorac Oncol. 2018 Jun 6. pii: S1556-0864(18)30680-4
4- Alexander Drilon, Salvatore Siena, Rafal Dziadziuszko, Fabrice Barlesi, Matthew G Krebs, Alice T Shaw,Filippo de Braud, Christian Rolfo, Myung-Ju Ahn, Jürgen Wolf, Takashi Seto, Byoung Chul Cho, Manish R Patel, Chao-Hua Chiu, Thomas John, Koichi Goto, Christos S Karapetis, Hendrick-Tobias Arkenau, Sang-We Kim, Yuichiro Ohe, Yu- Chung Li, Young K Chae, Christine H Chung, Gregory A Otterson, Haruyasu Murakami,Chia-Chi Lin, Daniel SW Tan, Hans Prenen,Todd Riehl, Edna Chow-Maneval, Brian, Simmons, Na Cui, Ann Johnson, Susan Eng, Timothy R Wilson, Robert C Doebele, on behalf of the trial investigators Entrectinib in ROS1 fusion-positive non-small cell lung cancer: integrated analysis of three phase 1/2 trials. Lancet Oncology 2020 Feb;21(2):261-270.
5- Rolfo C, Cardona AF, Cristofanilli M, Paz-Ares L, Diaz Mochon JJ, Duran I, Raez LE, Russo A, Lorente JA, Malapelle U, Gil-Bazo I, Jantus-Lewintre E, Pauwels P, Mok T, Serrano MJ; ISLB. Challenges and opportunities of cfDNA analysis implementation in clinical practice: Perspective of the International Society of Liquid Biopsy (ISLB). Crit Rev Oncol Hematol. 2020 Jul;151:102978
6- Reclusa P, Verstraelen P, Taverna S, Gunasekaran M, Pucci M, Pintelon I, Claes N, de Miguel-Pérez D, Alessandro R, Bals S, Kaushal S, Rolfo C. Improving extracelular vesicles visualization: From static to motion Sci Rep. 2020 Apr 16;10(1):6494
7- Rolfo C, Cardona AF, Ruiz-Patiño A, Ariza S, Zatarain-Barron L, Pino LE, Viola L, Russo A, Rojas L, Ricaurte L, Arrieta O. Atypical Skin Manifestations During Immune Checkpoint Blockage in Coronavirus Disease 2019-Infected Patients With Lung Cancer. J Thorac Oncol. 2020 Jul 9:S1556-0864(20)30543-8
8- de Miguel-Pérez D, Bayarri-Lara CI, Ortega FG, Russo A, Moyano Rodriguez MJ,Alvarez-Cubero MJ, Maza Serrano E, Lorente JA, Rolfo C, Serrano MJ. Post-Surgery Circulating Tumor Cells and AXL Overexpression as New Poor Prognostic Biomarkers in Resected Lung Adenocarcinoma. Cancers (Basel). 2019 Nov 7;11(11):1750.
9- Serrano MJ, Garrido-Navas MC, Diaz Mochon JJ, Cristofanilli M, Gil-Bazo I, Pauwels P, Malapelle U, Russo A, Lorente JA, Ruiz-Rodriguez AJ, Paz-Ares LG, Vilar E, Raez LE, Cardona AF, Rolfo C; International Society of Liquid Biopsy.Precision Prevention and Cancer Interception: The New Challenges of Liquid Biopsy. Cancer Discov. 2020 Oct 9. doi: 10.1158/2159-8290.CD-20-0466
10-Rolfo C, Russo A.Liquid biopsy for early stage lung cancer moves ever closer. Nat Rev Clin Oncol. 2020 Sep;17(9):523-524.
Additional Publication Citations
Dr. Rolfo received several awards including: Honorary Doctorate from UPSJB in Peru, Distinguish Professor at UNC, Argentina, Visiting Professor University of Palermo, Italy, Visiting Professor, National Guard Hospital, Saudi Arabia, Distinguish Guess city of Cordoba, Argentina, Best doctoral thesis " Jean Dausset Award" from the Royal Acadeny of Balearic Islands, Spain, Lung Cancer research Foundation Research Award, among other accolades
Ongoing Research Support:
NIH 5P30CA134274-12 C. Rolfo (PI) 08/01/2019–07/31/2020
Sub-Project ID: 8042 (funding by NCI) Early-Phase Clinical Research Support
This study is an early-phase clinical research support UMGCCC investigator-initiated pilot (pre-Phase I) or Phase I trial that tests clinical interventions with a candidate agent or device for the diagnosis, prevention, detection, or treatment of cancer. These studies frequently require funding to support research coordination, data management, and regulatory functions.
Lung Cancer Research Foundation C. Rolfo (PI) 12/1/2019 – 11/30/2021
UMB Project ID #: 30003881
"Empower Me" Proactive monitoring of treatment-related adverse events through a mobile application in NSCLC patients treated with tyrosine kinase inhibitors: the "Empower Me" Digital Therapeutic Study
NIH 1R44CA250824-01 ONC-392 Zheng (PI) Rolfo (Co-PI) 04/03/2020 -9/30/2020
First-in-Human Phase I/II Clinical Trial of ONC-392: Preserving CTLA-4 Immune Tolerance Checkpoint for Safer and More Effective Cancer Immunotherapy. This study investigated a new anti-CTLA-4 drug in combination with pembrolizumab in lung cancer patients.
NIH 1 U54 CA260560-01 PI: F. Hirsch 09/22/2020- 2024
Vulnerability of SARS- CoV-2 Infection in Lung Cancer Based on Serological Antibody Analyses
Role: Co-Lead Project 1
In our lab we are focus in Liquid biopsy.
The study of exosomes, as a liquid biopsy in lung cancer, is the focus of my research. Together with my group, I contributed to determine the role of the exosome cargo in lung cancer and specifically the determination of genomic alterations, such as ALK translocation, being a pioneer in these results, presented at the World Lung Cancer Congress in December 2015. Moreover, we recently published in Scientific Reports, Nature, the role of NSCLC derived exosomes in the cross-talk with the tumor microenvironment, explaining their potential role in the metastatic niche formation and mechanism of resistance with promising results. Our results suggest that NSCLC-exosomes, containing AREG, induce EGFR pathway activation in pre-osteoclasts that in turn causes an increased expression of RANKL, an important player in bone metastasis. My fourp was pioneer improving methods for visualization of exosomes. A recent publication shown for first time in motion video of extracellular vesicles internalization in lung cancer cells through confocal microscopy analysis. This data open the door for future theaperutic and biological umechanisms using EVs. Our group has put efforts on developing a protocol for exosomes staining without ultracentrifugation, reducing the time required for the experiments and simplifying the technical issues of using an ultracentrifugation. Regarding to ctDNA and other componets of liquid biopsy,
Our group is working in COVID-19 and liquid biopsy, focused in exosomes and the sequela on lung and the serology proget on lung cacner patients. We obtained a U54 grant in collaboration with Mount Sinai NYC.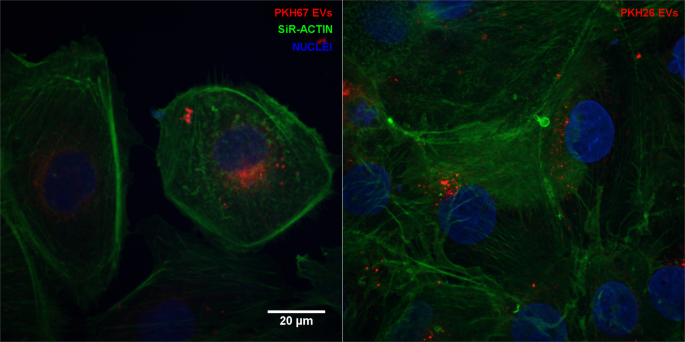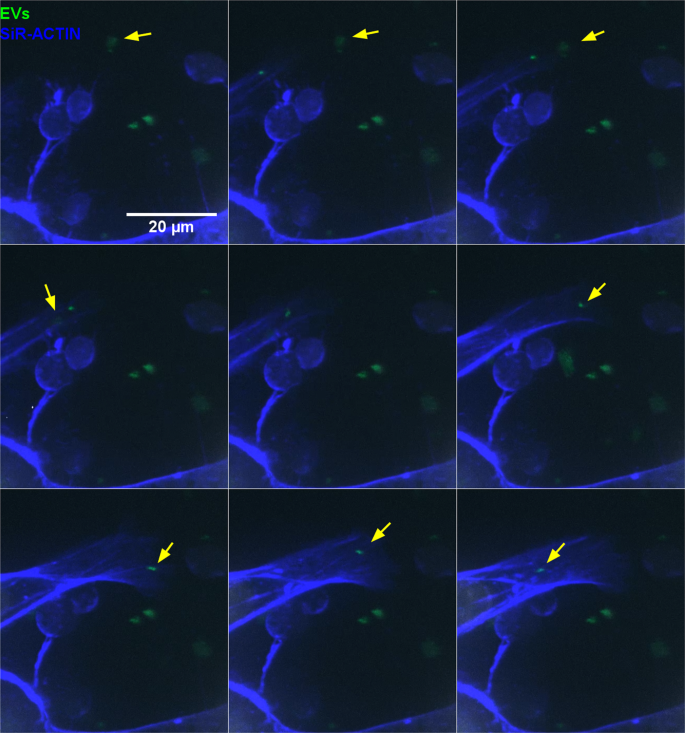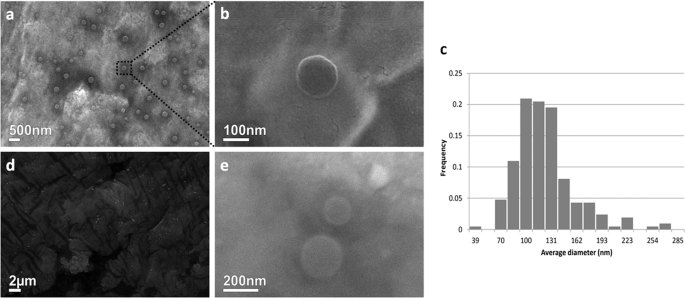 figure4