A Grateful Patient: David Carroll
Grateful Patient, David Carroll, Pledges $1 Million to Support the Advanced Heart Failure Program
UMSOM benefactor David Carroll had never expected what was to come.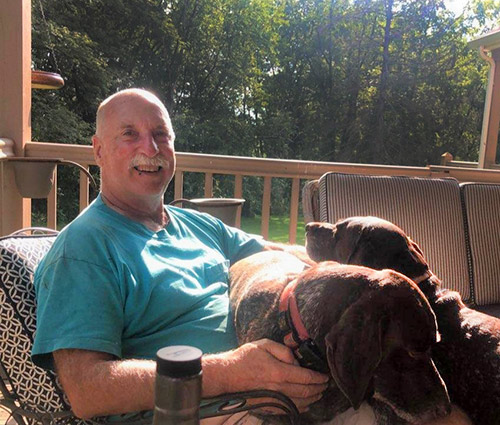 David Carroll Retired from a career at UPS, he and his wife Candice were living the good life in a historic farmhouse in rural Dover, PA with their two German Shorthair Pointers, Hatteras and Ansel. Mr. Carroll had been receiving care for advanced dilated cardiomyopathy, a heart condition that causes the muscle in the heart's ventricles to become weakened and unable to pump blood normally, which can lead to heart failure.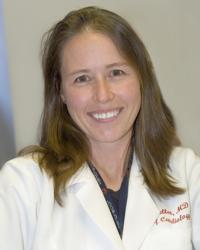 By 2010, his condition worsening, Mr. Carroll was referred to UMSOM's Erika D. Feller, MD, Assistant Professor of Medicine in the Division of Cardiovascular Medicine. "He was very ill with heart failure when we first met. He soon progressed to require home IV inotropic therapy to help his heart to beat more efficiently," she recalled. But Dr. Feller also recognized the bottom line—Mr. Carroll needed a new heart.
While on the transplant wait list, Mr. Carroll had a Jarvik left ventricular assist device (LVAD) implanted to help his weakened heart pump, extending his life until a donor organ was available. Improving significantly while on LVAD therapy, Mr. Carroll was a pioneer in that early Jarvik LVAD clinical trial in which University of Maryland played an important role. Then in 2012, he had life-saving heart transplant surgery by Bartley P. Griffith, MD, the Thomas E. and Alice Marie Hales Distinguished Professor in Transplant Surgery, and his team.
"I received my new heart on Saturday, and on Monday, I got up and walked in my hospital room," Mr. Carroll recalls. "It was phenomenal. I was released after three weeks and came home. I've only gotten better since then. I can play golf and really do anything."
Appreciative of the measures UMSOM physicians took to keep him alive, Mr. Carroll initially made a five-year pledge of $5,000 for operating support for the Advanced Heart Failure program (AHF) in the Department of Medicine's Division of Cardiovascular Medicine. With the passing of his wife Candace in 2020, Mr. Carroll was determined to leave behind a legacy, which in November of that year he confirmed—a bequest intention to leave his residuary estate to support the AHF program, an extraordinary estimated gift of $1 million. His intention is that his gift be unrestricted to provide the cardiovascular medicine team the greatest ability to strategically advance with the changing needs of the program.
"David's generous donation underscores the dedicated, multi-disciplinary work that the University of Maryland's heart transplant and VAD team does every day," Dr. Feller says. "Our work is more than a job—it's a constant desire to improve the lives of patients with severe heart failure. It involves building patient trust and providing options for advanced heart failure management. His donation will help us increase our penetration into communities."
For his part, David Carroll continues to be thankful for the care he received. "There is not enough I can give to thank Dr. Erika Feller and Dr. Bartley Griffith for saving my life," he says. "Maryland has taken care of me from day one and continues to do so today. When I go there for a checkup, it's like visiting my other family. If my bequest can just help one person, that would be great."
To learn more about planned giving opportunities to the University of Maryland School of Medicine, click here.